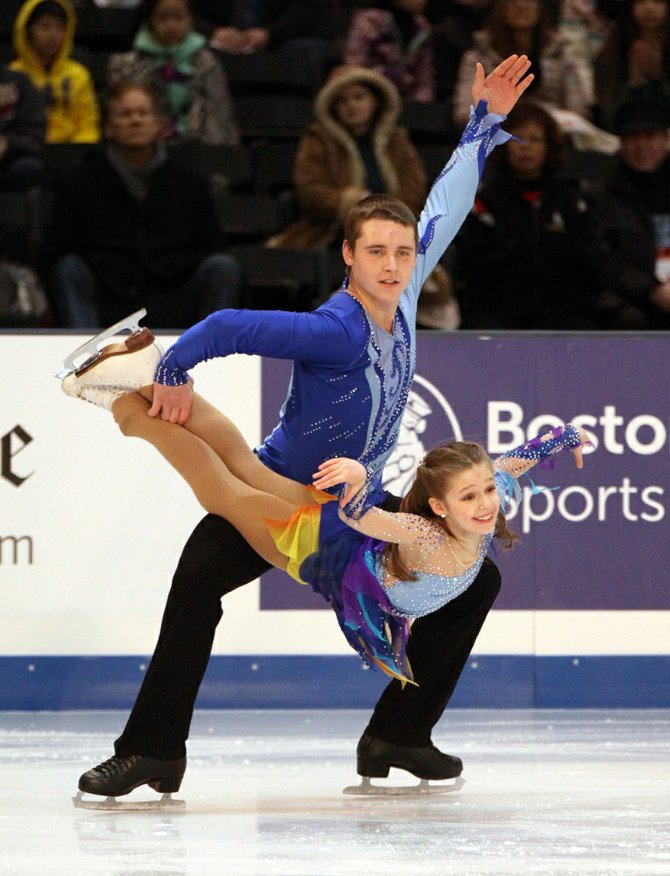 On Friday, March 28 and Saturday, March 29 the Skaneateles Figure Skating Club will present the "Legends of Pop" Ice Show at the Skaneateles YMCA. As in years past, the ice show will feature club members of all ages and abilities, along with guest skaters from around the area. Following on the first ice dancing U.S. Olympic gold in Sochi, the club is excited to share with the community the artistry of a new and upcoming nationally ranked ice dancing pair.
Angeline Turczyn, 10, of Whitesboro, N.Y and Cole Yolman, 15, of Ithaca, N.Y. have skated together for a year and a half and periodically practice in Skaneateles with their Ithaca-based coaches. Together they have medaled in numerous competitions and recently earned a sixth place at the U.S. Figure Skating National Championships in the juvenile division. Angeline and Cole will skate two numbers including their award winning free dance program. For many their performance is sure to be reminiscent of native son and ice dance Olympian Scott Gregory who thrilled show audiences in the 1980s.
In addition to Angeline and Cole, "Legends of Pop" will also feature Jocelyn Haines, an 11-year-old who, having first skated in Skaneateles, returns to perform her program of advanced jumps and spins. Club members will share with the community a number of solos and group pieces while the Bluewater Blades synchronized skating teams will perform their competitive routines.
"Legends of Pop" will be held Friday, March 28, at 7 p.m. and Saturday, March 29, at 2 p.m. Tickets are available at the door and are $8 for adults, $6 for students and seniors, and free for children under 5.
Vote on this Story by clicking on the Icon