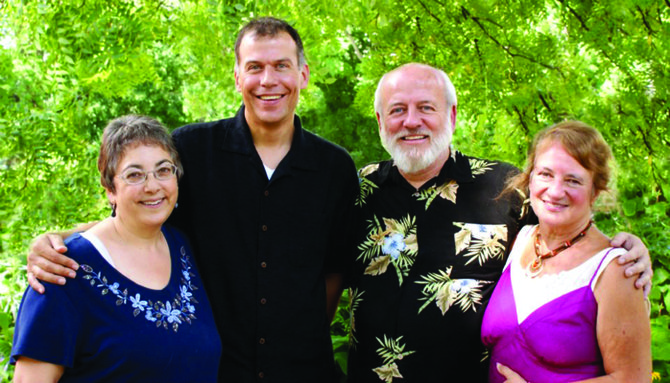 Fayetteville — A fiery fiddle and a propulsive upright bass drive the music of Larry Hoyt & The Good Acoustics, but two distinctive voices – one male and one female – dynamically deliver the group's lyrics.
Frontman/guitarist Larry Hoyt has a husky baritone often compared to the late, great Johnny Cash. Mountain dulcimer player Eileen Rose channels the spirit of the Carter Family's Sara Carter, singing the high notes like an Appalachian banshee.
Violinist Judy Cohen Stanton and her husband, bassist Jeff Stanton, accompany the two disparate singers and also add vocal harmonies. The band's repertoire ranges from old-time folk to country-western to oldies rock'n'roll.
Larry Hoyt & The Good Acoustics will perform at 7:30 p.m. Saturday, March 22, at the Steeple Coffee House, 310 E. Genesee St., in Fayetteville, behind the United Church of Fayetteville.
"Folk and acoustic is that part of the music world in which I feel most comfortable," Hoyt said. "I like living in the world inhabited by performers such as Tom Paxton, Pete Seeger, Arlo Guthrie, John Sebastian and the late Phil Ochs."
Since 1997, Hoyt has hosted a weekly acoustic music show called "Common Threads" which airs Sundays from noon to 3 p.m. on WAER-FM 88.3.
For the Good Acoustics, Hoyt writes set lists including covers by Stephen Foster, Hank Williams Sr. and Buddy Holly. "We also do some originals and some surprises, such as 'Bei Mir Bist du Schoen,'" he said, "which was a hit for the Andrews Sisters in 1938."
A decade ago, Hoyt – who recently celebrated his 65th birthday – released a solo CD titled "Folksinger/Songwriter" on Hondo Mesa Records. His original songs include the upbeat "Let's Go for a Ride" and the haunting "Ghost of Love."
Rose's keening vocals are often heard on tunes such as Stephen Foster's "Oh, Susannah" and Gillian Welch's "Tear My Stillhouse Down."
(Continued on Next Page)
Prev Next
Vote on this Story by clicking on the Icon