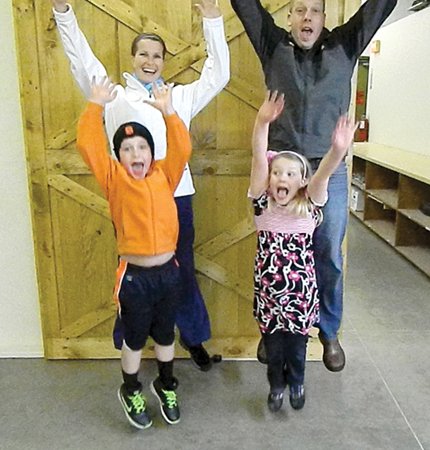 continued — The Reilleys will begin their distillery using local apples — Critz Farms apples, to be exact. The Reilleys have partnered with Matt and Juanita Critz, owners of Critz Farms, and will use their Critz Farms hard cider as their base to distill and from that create their Life of Reilley hand-crafted premium vodkas, which will be straight as well as flavored vanilla, raspberry and a vanilla-raspberry blend, Ben said.
The Reilleys, in fact, placed the order for their first still last week.
"This will be the first legally owned still in Madison County since the 1850s," Ben said. The business, in fact, will be the first and only distillery in Madison County currently operational. "We're hugely proud of that," he said.
But vodka is only the beginning for Life of Reilley, and the company will eventually move into winemaking and already have their wine license, Shioban said.
Life of Reilley wine will be made by contracting with Finger Lakes wineries that will make private-label wines for the Reilleys based on the Reilleys' specifications, in what is called the "custom crush" method. For all Life of Reilley winemaking, Ben and Shioban will direct the entire composition; they will choose the grapes, the yeast strains, the fermentation and aging times and every other aspect of production — they just will not be physically making the wine themselves.
But the local production of Life of Reilley wines is in the ultimate business plan, Ben said, as is the production of craft sodas.
"We see an opportunity here … we don't know the growth potential, but all signs are pointing through the roof," Ben said.
For now, Life of Reilley will be located temporarily in an 800-square-foot space in the Pelco building in Trush Business Park on Route 20, just across the Cazenovia town line. It is not a retail shop or customer location, only a production facility where they anticipate making less than 50 cases per month, or what qualifies as a "micro distillery."
Vote on this Story by clicking on the Icon