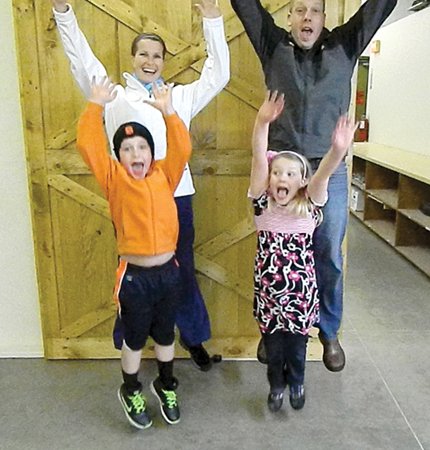 Cazenovia — Ever since Ben Reilley resigned from his top position at Owera Vineyards last August, his friends and fans in and around Cazenovia have been wondering what he was going to do next professionally. Surely, it must be some project connected to wine and spirits, they thought.
And they were right.
After six months of intense work, Ben and his wife Shioban have announced their new endeavor: a small batch, hand-crafted spirits and wines business to be named "Life of Reilley Distilling and Wine Company." And with their temporary production location secured in Trush Business Park in Nelson and a handmade, copper still currently being produced, the Reilleys anticipate the first bottle of their new endeavor to hit the streets of Cazenovia on July 4.
"When we left Owera we had no idea what we were going to do," said Shioban, who is a nurse administrator but volunteered her time at Owera during the years Ben worked there. "We had an absolute blast traveling around, meeting people, doing wine tastings. Since we loved the craft beverage industry so much, we decided to start our own business."
"The void we saw here [in Madison County] is in distilling, and we thought it would be great to complete the beverage craft industry here in Caz [with a distillery business]," Ben said. "And the response so far has been incredible, overwhelming. We have distributors calling us from around the state asking when they can sell our product. It's very flattering."
Distilling means separating the components of a liquid as a means of purification and can be done with anything, oils, grains, fruit, etc. Distilleries once were ubiquitous around Cazenovia and Madison County in the 19th century because bars all made their own spirits, said Ben, who said he has been working closely with Madison County Historian Matthew Urtz on the history of distilling in the area.
(Continued on Next Page)
Prev Next
Vote on this Story by clicking on the Icon