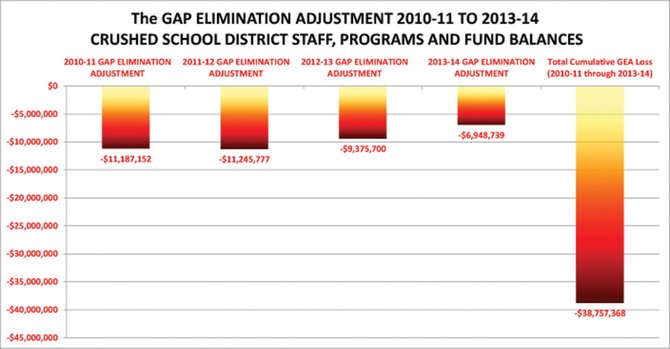 North Syracuse — In an effort to get rid of a state policy many school districts say is unfair to schools and taxpayers, the North Syracuse Central School District is asking residents to send letters to their legislators demanding the repeal of the Gap Elimination Adjustment.
Gap Elimination Adjustment (GEA), originally called the Deficit Reduction Assessment, was instituted by the Patterson administration in the 2009-10 school year to help the state fill its revenue shortfall. Essentially, the state allocates a certain amount of aid to schools each year, then takes away a portion of that aid through the GEA. If the amount of state aid allocated to schools exceeds the projected growth in the state's personal income, regardless of the need projected by schools, the GEA is increased to contain overall growth within legislated limits. If state aid increases are less than that limit or if legislators choose to exceed the state aid cap, the GEA can be decreased. However, the GEA generally remains at the same levels year to year.
As a result of the GEA, schools in Central New York have lost a total of $244,761,336 in state aid since 2009-10. North Syracuse alone has lost $39 million, forcing the district to cut more than 200 staffers, deplete its fund balance, raise taxes and eliminate numerous co-curricular programs, including sports and music.
In order to restore some of the funds due to schools, the NSCSD is launching a letter campaign to encourage state legislators and the governor to repeal the GEA, effective for the 2014-15 budget season. Text of a proposed letter is available for download at nscsd.org/files/filesystem/Gap%20Elimination%20Adjustment%20letter.pdf.
"We have passed the point where we are doing more with less," the letter reads. "We are now doing less with less. The GEA, combined with frozen and/or reduced state aid allocations, insufficient mandate relief and the enactment of the property tax cap, has created irreversible financial consequences. Our schools are at a crossroads. The continuation of the GEA is an unacceptable practice that will chisel away and ultimately destroy the quality of education our children deserve, our taxpayers expect, and our state leaders promote… We can no longer bear the burden imposed on taxpayers by the GEA."
(Continued on Next Page)
Prev Next
Vote on this Story by clicking on the Icon