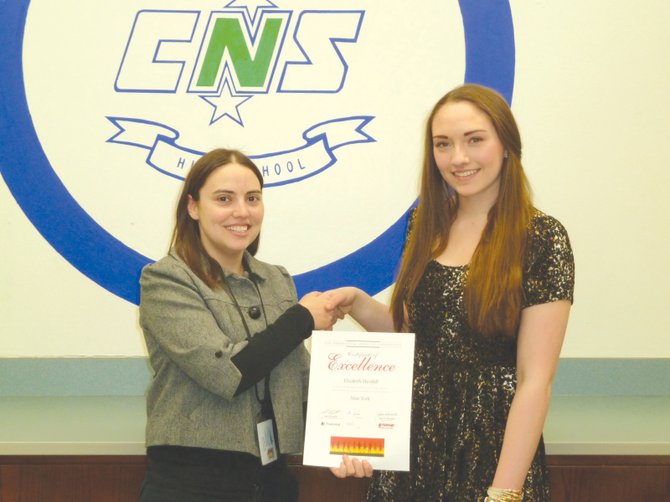 Cicero — Elizabeth Westfall has accomplished a lot — especially for a 15-year-old.
The Cicero-North Syracuse High School sophomore was one of the organizers of last year's Hallowrun for Hunger, a run to benefit the Food Pantry of Central New York. The inaugural 5K took place at Oneida Shores Park in Brewerton. The course featured student zombies from Cicero-North Syracuse High School, made up by student makeup artist Josh DeFabio, who chased runners as they made their way along the course. The event raised a total of $5,727 for the Food Bank of Central New York, the main food supplier to 268 emergency food programs in 11 counties in the state. A total of 267 runners participated in the 5K, while 50 kids under 12 took part in a free kids' half-mile run.
Westfall and fellow cross country runner Megan Cuculich set up the run as an extension of their efforts to end hunger in Central New York. The two had held Halloween donation drives for several years before launching the run last year.
Now, Westfall has received recognition for those efforts. She received a Certificate of Excellence from the Prudential Spirit of Community Awards, as well as a President's Volunteer Service Award granted by the program on behalf of President Barack Obama.
Certificates of Excellence are granted to the top 10 percent of all Prudential Spirit of Community Award applicants in each state and the District of Columbia.
While honored by the recognition, Westfall is more focused on continuing her work. She said she and Cuculich, along with their team of volunteers, have already started working on the 2014 run, which will take place Oct. 5.
"We will have a new course that starts on the other side of the park because it has a bigger parking lot," Westfall said. "I have set a new goal of raising 20,000 for the Food Bank and I know we can get there."
Vote on this Story by clicking on the Icon