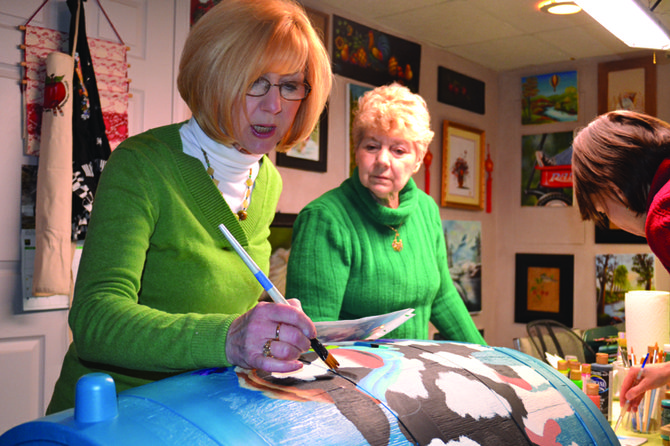 Onondaga County — Unlike most fine artists, the majority of the members of the Central New York Decorative Artists chapter of the Society of Decorative Painters never went to school to hone their craft. In fact, most of them, like Roseann Guidera, picked up the skill later in life and immediately fell in love with the simplicity of the decorative painting process.
"Some people are born with a natural ability to draw, but I wasn't," said Guidera, who lives in Fremont. "I can't get the dimensions right and I just can't visualize it and do it. So decorative painting allows me the opportunity to go crazy and have a beautiful painting. Plus, I don't have to worry about whether the eye is going to be in just the right spot, etcetera."
Decorative painting is a systematic method of painting in which an artist follows a pattern and uses different mediums and brush stroke techniques to replicate that pattern. Guidera, who teaches decorative painting in Minoa, loves its simplicity and said that most people, even those who have never considered themselves to be artistic, can master the basics in just three months.
While most of Guidera's work is on canvases and other "traditional" surfaces, she said that one thing that makes decorative painting unique is the fact that it can be done on pretty much anything.
"Literally, we paint on anything — mailboxes, empty glass jars, bowling pins, dead light bulbs," said Guidera. "A fine artist snubs their nose at us because we actually use patterns. The misconception of this particular art is that its arts and crafts like you'd find at a school craft show, but it's not. We paint portraits, beautiful scenery — a variety of things. It's very diverse."
The CNY Decorative Artists are made up of people from across Central New York, including Liverpool, East Syracuse, North Syracuse, Camillus and Baldwinsville who meet once a month in Camillus. Dorothy Young, of Fayetteville, said she loves attending meetings because she's inspired by the variety of ideas and techniques that members bring to the table.
(Continued on Next Page)
Prev Next
Vote on this Story by clicking on the Icon