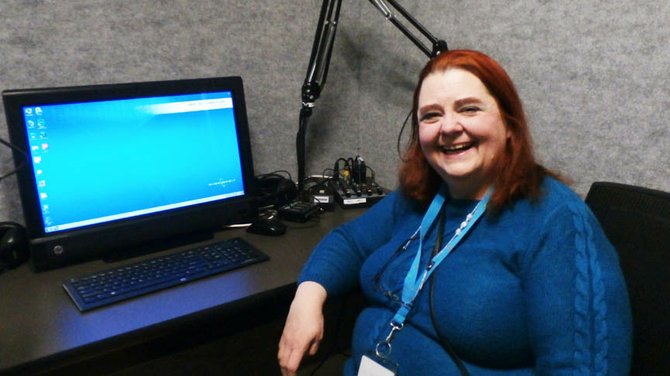 For more than three decades, WCNY-FM has been serving the blind and visually-impaired residents of Central New York with a special radio service called READ-OUT.
Free to anyone who can receive a signal from WCNY-FM in Syracuse, WUNY-FM in Utica or WJNY-FM in Watertown, the service provides the latest in information and entertainment from sundry newspapers, including the Syracuse Post-Standard, Rome Daily Sentinel, Utica Observer-Dispatch and USA Today; magazines, such as Reader's Digest, Alaska Magazine and Yankee Magazine, as well as best-selling books. It also offers local weekly grocery listings — all through a special fixed-frequency radio.
"The radio frequency, known as a subcarrier, piggy backs on the back of our regular FM signal," said READ-OUT coordinator Marie Lamb. "To hear READ-OUT, you use these special receivers that pick up the subcarrier."
About 2,000 people currently use the READ-OUT service, and Lamb said listenership remains stable.
"There is still a certain demand for it," she said. "We do get applications for it all the time."
Content includes local, state and national news as well as sports, obituaries, weather, lottery listings, horoscopes and T.V. guides. "The Grocery Shopper" is a weekly hour-long program where volunteers read off the specials from area supermarkets. Lamb said people very much rely on these programs.
"If some of our regular material is missing, say if anything happened with the [Post-Standard] or with the grocery listings ... we hear about [it] right away," she said. "The only time you're going to hear about an obituary is if a celebrity dies, on regular broadcast. Here, you'll be able to hear the obituaries.
"You'll hear lots of other local stories that you don't necessarily hear on commercial TV or radio where there's only so much time," she added.
It takes many voices, however, to keep this service alive, and Lamb, who now has 25 volunteers, said she can always use more.
(Continued on Next Page)
Prev Next
Vote on this Story by clicking on the Icon