continued — Striking a balance of pursing worthwhile initiatives and holding back on fruitless spending is the key. Serving the village board is all about giving the residents the best place to live and do business.
What's one thing that people would be surprised to learn about you?
I can be stern about my decisions and beliefs, but I am compassionate towards those who are truly in need of help.
Mike Small
Biographical information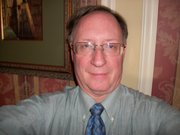 Mike Small is a lifetime resident of Fayetteville, where he has been a trustee on the village board since 2001. He has worked at Eaton-Tubbs Fayetteville Chapel of Schepp Family Funeral Homes since 1981 and is currently the manager.
Small is both on the board and serves as the treasurer of the Manlius Historical Society and is also on the board of the George C. Wortley Foundation. He formerly served on the board and was the chairman of the Fayetteville Senior Center.
Why are you running for office?
I am seeking re-election to this office to maintain the excellent services and benefits that are provided to those who live within our village.
Why are you the best candidate for this office?
I believe I am the best candidate for this office because of the longevity and strong ties through my work, community participation and socialization I have within the community. I listen to the concerns and thoughts of the residents and implement them to the best of my ability in making decisions that affect the costs and quality of life in the village.
What are the major issues facing the village and what will you do to address them?
The major issue facing the village is the ability to maintain the services we provide to the residents at a reasonable cost. I consistently look at opportunities to control costs and share services.
Vote on this Story by clicking on the Icon