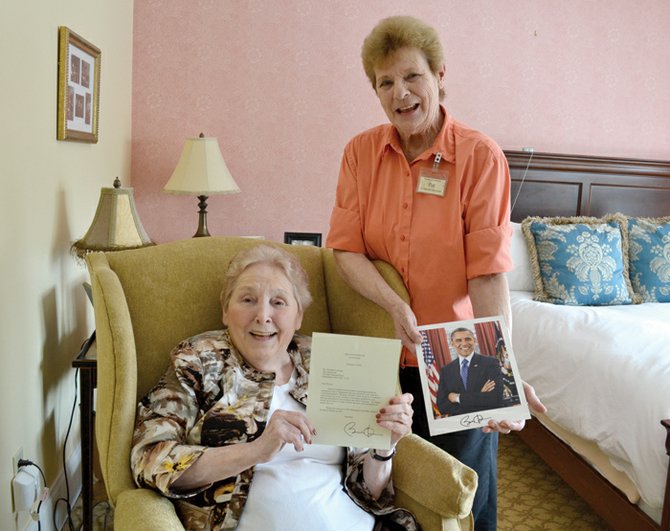 Skaneateles — After just missing her chance to wave to the president as he drove by last year, a former Cazenovia woman recently received something even better: a signed personal letter sent straight from 1600 Pennsylvania Ave.
As soon as she heard that President Barack Obama's motorcade was driving through Skaneateles on Aug. 23 of last year, Pat Campbell, a nurse's aide at the Athenaeum of Skaneateles, hurried to assist resident Winifred Coleman, a former Cazenovia College dean, outside to see the sight.
In the middle of a visit to Upstate New York that included a visit to Syracuse and an overnight stay in Auburn, the presidential tour bus, with little advance notice, took the scenic route as it headed out of the area, driving east on Route 20. As word spread that the president was headed for Skaneateles, locals lined the sidewalks to wave to Obama, who waved back from the front of his bus.
However, by the time Campbell and Coleman got outside to the driveway of the Athenauem, the bus had already passed by. Coleman, called "Winnie" by the residents and staff at the Athenaeum, was crestfallen after learning she had missed her chance to see the president, of whom she is a big supporter, Campbell said.
"As soon as we got down, he had passed though and if you could have seen the look on her face … I think that's why I wrote the letter," she said.
A few days later, Campbell wrote a letter, addressed to the commander in chief, to tell about Coleman's distinguished career as an educator, and the fact that she was saddened by the missed opportunity to see him.
"She loves you and your family and is a true supporter of your policies and vision," she wrote.
Due to a past stroke, Coleman has difficulty with her verbal communication, though she is still a "brilliant mind" who keeps up on current events and applauds Obama's principles on education, she said.
(Continued on Next Page)
Prev Next
Vote on this Story by clicking on the Icon