"Thanks," was all Richard Faulkner felt he needed to say when asked if he wanted to say a few a words to the crowd gathered at Bluefield Manor in Auburn on March 8.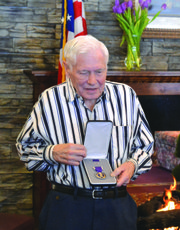 Faulkner was presented with a Purple Heart medal, the U.S. Military's recognition for veterans wounded in combat, an honor he originally refused following his service as an airman in World War II almost 70 years ago.
At a ceremony with friends, family and current and past members of the military in attendance, Faulkner was presented with the award by U.S. Congressman Dan Maffei.
Originally from Hannibal, Faulkner grew up in Skaneateles and lived there for most of his life. After graduating from Skaneateles High School in 1942, he enlisted in the military and served in the air corps. On March 18, 1944, the B-17 plane, on which Faulkner was a ball-turret gunner, crashed over Nazi-occupied France. Faulkner was the only survivor of the crash and spent 29 days behind enemy lines hiding from the Gestapo and looking for friendly forces.
After his daring escape, Faulkner was offered, and declined, the Purple Heart award, he was 19 years old at the time.
Following the war, Faulkner worked for many years as a lineman for New York Gas and Electric Company, living in Mottville and Skaneateles, before moving to Auburn in retirement.
Though he has never been keen to talk about the war and his remarkable story, Mary Ellen Faulkner, Richard's daughter-in-law, said she contacted Maffei's office about the honor after hearing that he had a change of heart.
"He never really talked about the war until the last 10 years, but like a year ago he said he wished he never turned it down, because it would something good for his grandchildren and great grandchildren," she said.
(Continued on Next Page)
Prev Next
Vote on this Story by clicking on the Icon