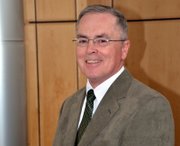 There are at least two reasons that it seems difficult for people to reflect on the pending retirement of Dale Bates, district business manager and assistant superintendent at Skaneateles Central Schools.
First, they grieve at even the mention of his departure.
Second, they find it difficult to summarize the magnitude of his impact on the Skaneateles Central School District — and thus, the entire Skaneateles community — over the past 30 years. In short, Skaneateles would not be what it is today without the man who played a pivotal role in making the district great.
After more than 30 years with the district, Bates' tenure came to an end at the end of last week.
Board of Education President Kathryn Carlson said this:
"Dale Bates has been the rock upon which the district's financial security has rested for 30 years. His financial acumen has enabled the Board of Education to advance programs and keep talented staff when other districts were cutting in both areas. His integrity has enabled board members to sleep at night without fear of financial upheaval. He will be greatly missed."
Carlson knows Bates from her years as an assistant superintendent and then interim superintendent of the district.
Former longtime Board of Education member Carl Gerst, who worked with Bates for more than 21 years, called Bates "the biggest asset" the district has had. "His character, along with his ability, is outstanding — and unsurpassed by anyone," said Gerst.
Gerst, a well-respected business leader in Central New York and beyond, said it was Bates who influenced his decision to remain for so many years on the board of education. "Without Dale I never would have stayed so long. Dale tipped the scale every time," he said. The longevity of highly experienced and top quality board members like Gerst has also frequently been cited as a factor in the success of the district.
(Continued on Next Page)
Prev Next
Vote on this Story by clicking on the Icon