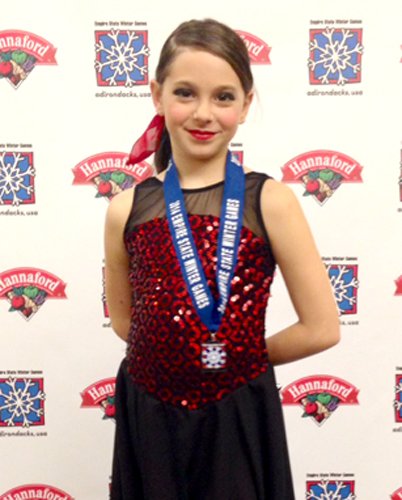 Helena Rose Bonavita, a 10 year-old who attends fifth grade in Mrs. Slocums' class at Cazenovia Middle School, has earned two silver medals at the 2014 Empire State Winter Games in Lake Placid, held February 5 through 8.
Helena has been skating for the past three years under her primary skating coach, Stacey Cook, herself a U.S. Figure Skating Triple Gold winner. "Stacey makes it fun whether it's on or off the ice," said Bonavita about her coach.
Bonavita earned her first silver medal in the preliminary freestyle event against stiff competition from skaters around the state. She earned her second silver medal in the pre bronze solo dance event skating the tango.
In addition, Bonavita has also earned bronze and gold medals in ice Dance and individual showcase events at the State Games of America, an invitation-only national figure skating competition held in York, Penn., this past June.
"We're very proud of her hard work and the success she's had on the ice and in the classroom. We're most proud of the kindness and love she shows to all who meet her," said her parents, Angie and Lou Bonavita.
Helena is dedicated to her sport by skating four nights a week, and trains off-ice as well. She is a member of the Skating Club of CNY whose home ice is at the Cicero Twin Rinks. Bonavita also is a member of the Cazenovia School of Ballet, where she has danced since age 3.
Vote on this Story by clicking on the Icon