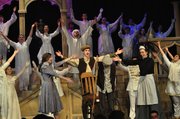 Skaneateles High School students will be giving six performances of this year's musical, "The Secret Garden," this week in the high school auditorium.
Following a senior citizen performance Wednesday afternoon, performances will be at 7:30 p.m. on Thursday, 7:30 p.m. on Friday, 2 and 7:30 p.m. on Saturday and 2 p.m. Sunday.
The musical is an adaptation of the Frances Hodgson Burnett novel of the same name. It is set in the early 20th century and follows Mary Lennox (played by freshman Maddie Van Riper), a young English girl born and raised in the British Raj, who is orphaned by a cholera outbreak when she is 11 years old. Mary is sent away from India to Yorkshire, England, to live with relatives whom she has never met. Her own personality blossoms as she and a young gardener (Joey Hagen) bring new life to a neglected garden, as well as to her sickly cousin (Ben Kringer) and uncle (Jeffrey Kringer).
The cast also includes: Ryan Terhune, Phoebe Glowacki, Max Messie, Kristina Didio, Conor Driscoll, Ellie Legg, Joe Buck, Allison Lambdin, Joshua Luce, Bethany Regan, Zach Driscoll, Jackie Aberi, Jeffrey Kringer, Fabiana Zedeno, Ellie Meyer, Katherine Krebs, Grace Magee, Corey Newell, Mackenzie McGraw, Alex Spear, Brogan Baldwin, Brooke Barkdull, Joe Benedict, Calvin Blackwell, Ben Blackwell, Brenda Buff, Sofia Darovskikh, Hannah Drake, Charlotte Gardner, Ethan Goldstein, Julia Hearn, Dan Kerrigan, Cateryna Kochan, Aimee La France, Adam Leesman, Patricia Mele, Huw Messie, Alyssa Morris, Emily Norris, Kasia Rybzyk.
They will be accompanied by a pit orchestra also composed of students.
Run time for the show is about three hours with one intermission. Tickets are available in advance, including choice of seat, on showtix4u.com. Tickets are $10 for adults and $8 for seniors.
This year's performance will also include an art raffle to support the Nora Thelma Boström Foundation. Works of local artists, featuring a garden theme, will be on display in the high school lobby during the performances. Tickets will be on sale for $1 each or 15 for $10. Show-goers can place the tickets into containers for each work to be entered to win.
The Nora Thelma Boström Foundation was founded in honor of Nora Bolstrom, daughter of Skaneateles-native Claire (McCormick) Bolstrom, who passed away in 2013. The Bolstrom family subsequently started the foundation to provide support for families caring for a child with pulmonary hypertension, provide education for caregivers, including families and medical personnel and support primary research into pediatric pulmonary hypertension. More information about the foundation can be found at norasfund.org.
Vote on this Story by clicking on the Icon