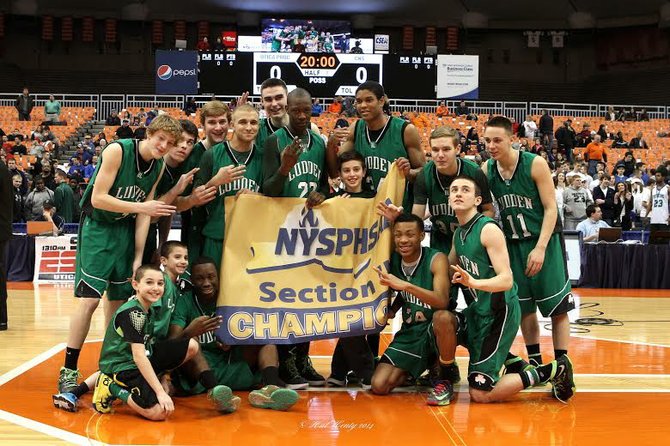 continued — "I wasn't expecting that," said Hawk. "But they (J-D) kept doubling down, and (Kaigler) draws a lot of attention."
As for Hackett, who had undergone some late-season struggles, he said the key to taking on a larger role was "not getting my head down and just playing my own game."
Donnelly said that, once those shots went down, "it changed the whole complexion of the game", and forced J-D into a catch-up mode the rest of the way.
Early in the second quarter, Kaigler got four straight points and, on the defensive end, made an emphatic block on Jafar Kinsey's drive to the basket.
A 10-0 run had Ludden in front, 36-17, but J-D, who had not scored for more than five minutes, picked up full-court pressure, and that, combined with Rauch's injury, rattled the Gaelic Knights, who were blanked for the last 4:41 of the half after Hawk's fifth 3-pointer.
Hawk was so hot that he even made a half-court shot banked off the glass - but after the horn for halftime, which left the Gaelic Knights ahead 36-25, but still needing to regroup.
And it would do so with defense, challenging J-D on every possession and not allowing a field goal in the first five-plus minutes of the third quarter. In the meantime, Hawk and Hackett both added to their totals and, in Rauch's absence, Kevin Sierotnik and Jude DeSilvio each hit crucial baskets.
All of this combined to keep the Rams from making any sort of concerted run. So did the struggles of Kinsey, who finished with 17 points, but never found any sort of consistent rhythm in his last high-school game before heading to Robert Morris University.
By contrast, Hackett, named the tournament MVP, finished with 24 points and Hawk got 20 points, while Kaigler, even in a rare supporting role, finished with 14 points, the Gaelic Knights' senior trio powering a championship effort.
And now it's back to the state Class A tournament, with Ludden playing Massena Wednesday night at Cicero-North Syracuse High School in the opening regional round. Two wins in regional play are needed for the Gaelic Knights to return to Glens Falls Civic Center for the March 15-16 state final four.
All the experience gained from a state Class B title won in 2012, and a Class A state semifinal appearance in 2013, might prove valuable here, said Hackett.
"We know what we have to do to get there," he said.
Vote on this Story by clicking on the Icon