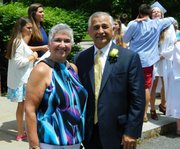 Cazenovia — In his 14 years in the Cazenovia Central School District — 10 of those as superintendent — Bob Dubik has achieved many successes, made institutional changes, passed 10 budgets, attended at least one event for every school sport and extracurricular activity offered and been a constant and visible participant in community organizations and events.
"I'm a proud father," Dubik said after ticking off the numerous accomplishments of Cazenovia students he has fostered and witnessed since he became superintendent in 2004. "I'm proud of everything, not just one thing that we've accomplished. … Certainly there are things I will miss, especially the kids — seeing them every day, getting hugs, cards, well-wishes from parents, the thank yous and appreciation from community members."
"I will not miss calling snow days or a rain day for June graduation," he added with a smile.
Last Saturday's commencement ceremonies for the Cazenovia High School Class of 2014 were, in fact, Dubik's last as superintendent. He retired on June 30, after a career of more than 30 years in education.
"I've had a great career," Dubik said. "Every single place I've been I've learned, I've met and worked with great people and everyone has benefited. … I'm leaving with as much excitement and passion about education as when I came."
In his career in education, Dubik has been a teacher as well as an administrator; worked in rural, suburban and urban districts, both public and private; and taught both general education and special needs students. This diversity of experiences through the years helped him became a well-rounded educator who learned as much as he taught in every position he held, he said.
Dubik, who is originally from Erie, Penn., began teaching in 1976 as a third and fourth grade teacher at Holy Rosary Catholic School in Erie — the same classroom, in fact, in which he was student. He worked there for four years, during which time he also achieved his degree in business, and then moved to the city of Syracuse, which was his wife's hometown.
(Continued on Next Page)
Prev Next
Vote on this Story by clicking on the Icon