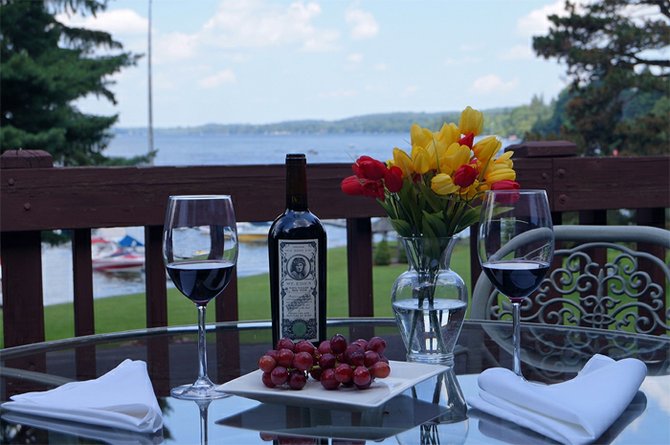 Cazenovia — The Brewster Inn on Ledyard Avenue is known for its elegant cuisine and farm-fresh menu items, but owner Richard Hubbard has been taking actions in recent months that he hopes will enhance his restaurant's already impressive reputation. To do this, he has recently unveiled a brand new menu, one that includes 20 new items, offered in half-size as well as full-size portions, and all farm fresh from Cazenovia as well as from some of the highest quality farms and purveyors around the world.
"Farm-to-table is a very popular concept right now, and we're trying to put our menu in that terminology. It's all about sourcing. … I go to great lengths to source all the food that hits our tables," Hubbard said. "It's got to be the best, got to be fresh, from wherever that is — we go where the best is, although when we can we buy local."
The new Brewster Inn concept of farm-to-table freshness from the greatest farms in the world, as well as from Caz, is something new. "It's farm-to-table on steroids," he said.
For example, the new seafood on the Brewster's menu cannot be found in Cazenovia, so Hubbard buys where the best is found. For his Atlantic salmon, he has a picker in Gloucester, Mass., who obtains top quality salmon from the Georgia Banks and ships it to Cazenovia.
"We guarantee it's out of the water no more than two days before you eat it," Hubbard said. "Chain restaurants never buy fresh; it's all frozen."
Other new seafood items on the Brewster menu include top catch scrod — "we haven't served scrod in 25 years; now it's back" —Arctic Char from Iceland (the most northern sustainable fresh water fish) and Tuna from Hawaii.
Hubbard has added some new pasta dishes as well, and kept classic meat offerings on the menu, such as veal, rack of lamb and filet mignon, but in the month since the new menu hit his tables, the big hit has been the starter items — eight new appetizers and four new salads. The starter menu offers items from escargot to foie gras to deviled eggs, and salads such as red and golden beet salad and fresh kale.
(Continued on Next Page)
Prev Next
Vote on this Story by clicking on the Icon