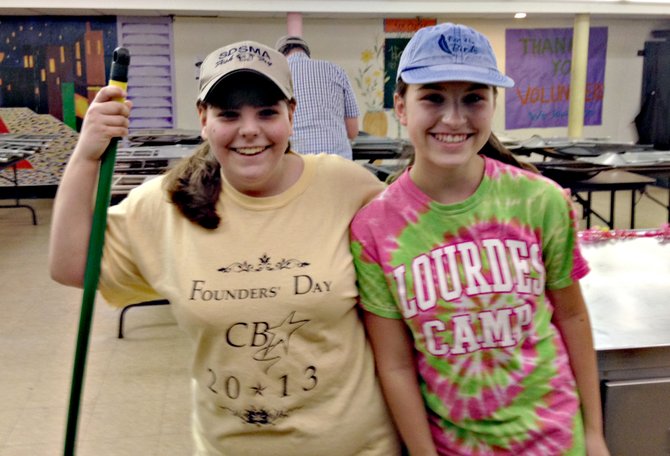 Fayetteville — As part of Wellwood Middle School's "Project: Pass It On" character education program, the school plans to donate about $2,100 to a local nonprofit organization.
Project: Pass It On includes a component in which the school community annually chooses a charitable organization and works toward supporting it in the form of donations and service.
For the current 2013-14 school year, the Fayetteville-Manlius School District school chose to rally around the Samaritan Center, a downtown Syracuse soup kitchen, which allowed the students, staff and community to support the organization in a variety of ways.
Throughout the school year, 18 staff members, 15 parents and 24 students volunteered at the soup kitchen and participated by wrapping silverware, serving food, cleaning dishes and tables and handing out free items, such as toiletries. Many of the students, staff and parents went multiple times during the school year.
During the winter holiday season, the school sent the soup kitchen 500 decorative placemats and 180 candy cane reindeer.
•Because the Samaritan Center serves breakfast and dinner, guests often go without lunch, so in March, the school sent the Samaritan Center 1,260 bagged lunches to hand out after breakfast. A group of parent volunteers helped make the sandwiches, and students in grades five to eight gathered in the cafeteria and gymnasium to assemble the lunches, which included the sandwiches, chips and a treat.
•In April, students and staff purchased, prepared and served a meal to 150 Samaritan Center guests. With the help of Wellwood's Family and Consumer Science teacher Amy Sibert, the group served barbecue pulled pork sandwiches, coleslaw, fruit cups and cookies.
•Various fundraisers throughout the year raised $1,600 for the nonprofit, and the school store plans to donate an additional $500, for a total of $2,100.
Project: Pass It On also promotes team building through monthly lunchtime challenge activities. Students are tasked with working together with members of their homerooms to earn points, and at the end of the year, the homeroom with the most points gets treated to an after school activity.
This year, WonderWorks at Destiny USA donated free after school entry on June 20 for students in the homeroom with the most points, which was sixth-grade teacher Brian Socker's homeroom, nicknamed "The Socker Souper Stars." The school's Home School Association plans to provide the students with dinner.
Vote on this Story by clicking on the Icon