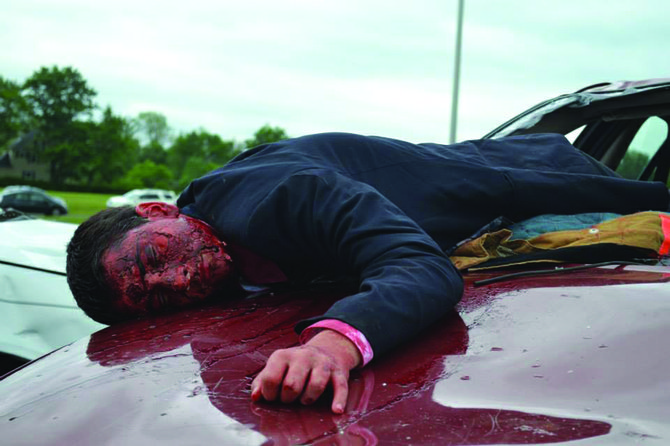 East Syracuse — On June 11, the Manlius Police Department, East Syracuse and Minoa Fire Departments, E.A.V.E.S first responders, medical examiners and representatives from Schepp Family Funeral Homes were on the scene at East Syracuse Minoa High School for what appeared to be a two-car drunk driving accident.
In the simulated accident, ESM junior Ian Holm was driving drunk and hit a car head-on carrying Zach Glanton and Chandler Cronk, killing both students. Holm, Glanton, Cronk and Phoenix Merritt, who was Holm's passenger, were all covered in "blood" makeup, done by the high school drama department.
"I know a lot of my friends like to hang out and maybe have a few beers," said Jeanine Kohler, a senior at ESM. "But seeing something like this – it really hits you hard and you think it could be you."
The simulation began with ESM students Gina Brainard and Robert Schill discovering that their friends had been in a car crash. Schill called 911, and the emergency responders began rushing into the ESM High School parking lot, where the entire senior class was seated.
The mock crash was narrated by Romana Lavalas from the Onondaga County District Attorney's Office, who handles all of the underage drinking cases in the county.
"I'm really glad to be here, because usually, if I'm talking to a young person, it's because they've been arrested," she said to the crowd. "So the fact that I'm able to be here and talk to you before anything like that happens is a good thing. Because hopefully it'll never happen and you'll never have to meet me in a professional capacity."
The Manlius Police Department was the first to arrive, followed closely by the Minoa and East Syracuse Fire Departments, which immediately began tearing the cars apart in order to get the students out safely. Glanton and Cronk were pronounced dead at the scene and were taken away in a hearse by representatives from Schepp Family Funeral Homes, while Merritt was taken to the hospital with minor injuries. Holm, however, was not seriously injured and was questioned by Manlius Police Officer Ben Kapusta.
(Continued on Next Page)
Prev Next
Vote on this Story by clicking on the Icon