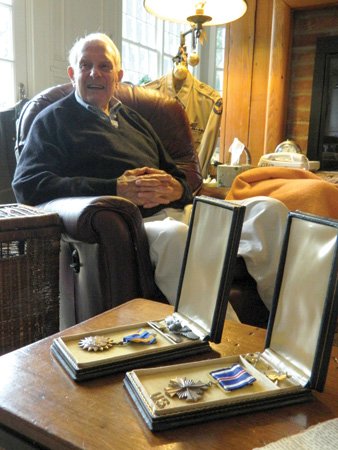 Cazenovia — Seventy years after Allied forces created the largest armada ever assembled to accomplish the greatest seaborn invasion in history, 96-year-old Cazenovia veteran, Fred Taylor, can recall flying his B-17 bomber during the D-Day invasion of Normandy as if it were only yesterday.
"There were so many planes in the air it looked like Broadway," Taylor said. "We bombed ahead of the troops. We flew at 12,000 feet — low altitude for heavy bombers. We could see the men down there. The English Channel looked like Broadway and Times Square with all the ships and transports, loaded with an enormous number of men and supplies. We put ashore 400,000 men. The Germans didn't stand a chance."
According to the National D-Day Memorial Foundation, the landing included more than 5,000 ships, 11,000 airplanes and more than 150,000 service men.
"After years of meticulous planning and seemingly endless training, for the Allied Forces, it all came down to this: The boat ramp goes down, then jump, swim, run and crawl to the cliffs. Many of the first young men (most not yet 20 years old) entered the surf carrying 80 pounds of equipment. They faced more than 200 yards of beach before reaching the first natural feature offering any protection. Blanketed by small-arms fire and bracketed by artillery, they found themselves in hell. When it was over, the Allied Forces had suffered nearly 10,000 casualties; more than 4,000 were dead," according to the foundation's website.
Taylor, at the time 26 years old, had been in the military for four years by the time he flew his bomber over Normandy in 1944. He was born in 1918. By 1939, in the middle of the Great Depression, he had dropped out of college at the University of Pennsylvania and started hitchhiking his way west. For two years, he "rode the rails" as a hobo, traveling from city to city looking for work.
(Continued on Next Page)
Prev Next
Vote on this Story by clicking on the Icon