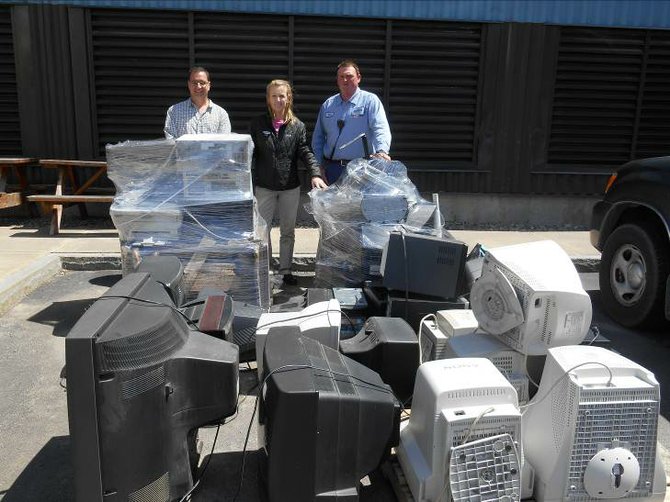 Jamesville — Covanta Onondaga and the Southwood Fire Department recently collected over 2,000 pounds of electronic waste (e-waste) from local residents and businesses at a collection event and open house at the Southwood Fire Department in Jamesville. Items collected included cell phones, televisions, laptops, PCs, tablets and cameras.
The collection was held in an effort to increase the amount of electronics that are recycled, reduce the amount of electronics discarded in regular household trash and educate the community on the importance of electronic recycling. Many electronics contain a wide variety of materials that can be recycled, which reduces energy use and the need to mine more raw materials from the earth. In addition, many electronics contain components which can be hazardous in the waste stream and should not be thrown away with regular household trash.
"It's important for people to know that disposing of electronics properly really makes a difference for the environment. It is part of the four 'Rs' we champion at Covanta – reduce, reuse, recycle and recover energy-from-waste," said Kathy Carroll, business manager for Covanta Onondaga L.P., the operator of the Onondaga County Resource Recovery Facility. "As a member of the Jamesville and greater Syracuse community, Covanta is proud of our work with the Southwood Fire Department to make a difference in the community and for the environment."
Covanta Onondaga and members of the Southwood Fire Department were on hand to collect old electronics delivered by local residents and businesses. As part of the day's event, the Southwood Fire Department also promoted volunteerism and the important role volunteer firefighters play in protecting the community. Residents interested in joining the department are encouraged to visit southwoodfd.com for more information.
"The Southwood Fire Department appreciates the continued support of Covanta Onondaga," said First Deputy Chief Tom Bouvia of the Southwood Fire Department. "We are pleased that our Recruit NY open house and e-waste collection efforts were huge successes."
(Continued on Next Page)
Prev Next
Vote on this Story by clicking on the Icon