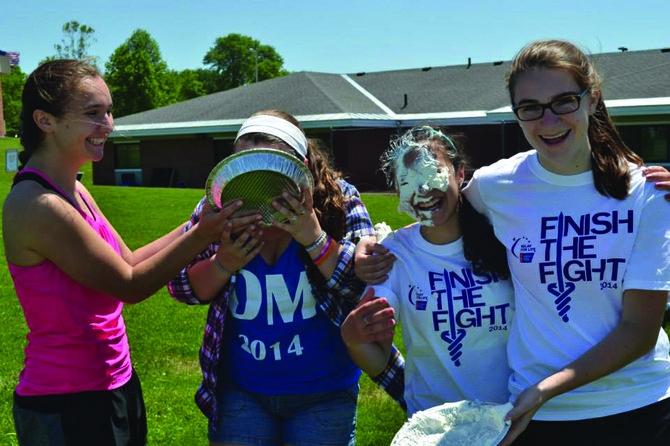 Manlius — The goal was to raise $50,000 at the F-M Relay for Life event on May 31. But participants in the 12-hour long walk to raise awareness didn't just exceed that goal – they shattered it, bringing in more than $68,000 by the end of the day.
About 440 people registered to walk on different teams and even more people showed up on the day of the event to participate, said Ben Gnacik, a five-year survivor and an F-M biology teacher who helped organize the event. He estimates that more than 1,000 people attended over the course of the day.
"There's no division between teachers and students and Fayetteville and Manlius residents," Gnacik said. "Everybody's here for the same thing, and it's awesome to see the whole community out here together."
Gnacik, along with fellow F-M teacher Meghan Reichel and five self-elected student leaders, began organizing the event in September. F-M students Kelly Muller and Becca Epling were in charge of fundraising, Gabby Hale lead the survivorship and recruitment committee, Sarah Shaheen was responsible for event coordination and entertainment and Calvin Stauffer was in charge of the accounting committee.
Epling, a senior, said she wanted to get involved in honor of her grandfather and uncles, who were diagnosed with cancer. She said she's gained confidence from her experience fundraising for Relay and plans to get involved in similar events in college.
"I was never comfortable with public speaking, but I had to do a lot of that," Epling said. "I talked to a lot of people I didn't know; a lot of business owners, and I think I got a lot more comfortable talking to people this year."
All of the proceeds from the event will benefit the American Cancer Society. Gnacik said that the event will happen again next year if there is interest from the F-M student body and community members.
Vote on this Story by clicking on the Icon