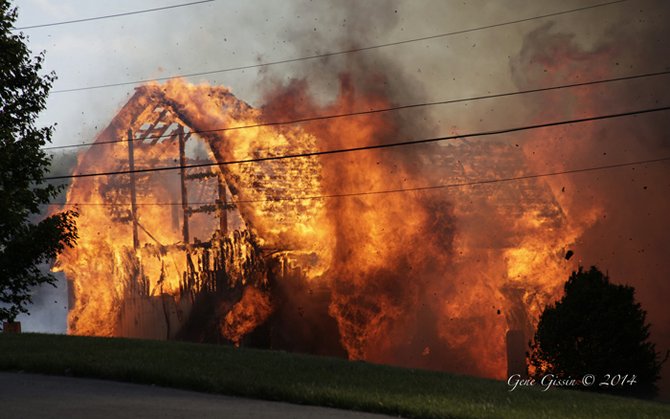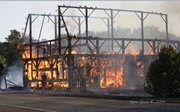 Cazenovia — Cazenovia fire crews Tuesday morning were called back the barn at 3857 East Road which was engulfed in flames and extinguished after a three-hour firefight Monday evening. The fire flared up again after continuing winds reignited the embers at around 3:30 a.m.
"They turned out, cheerful, and were again back in the morning to check on things," barn owners Fred and Meredith Goettel wrote in a letter to Cazenovia Republican.
Firefighters from six Madison County fire departments battled the fire Monday evening after a call came in to the Madison County 911 Center at 4:55 p.m. on June 2 with word that the barn's roof was ablaze, said Nick Enders, Chief of the Cazenovia Fire Department.
In the three to five minutes it took for the volunteer firemen to arrive at the scene, the fire had spread throughout the entire two-level barn, spanning approximately 200-by-75-foot, Enders said.
When CFD crews arrived on the scene, their first priority was to protect the house – which was only 25 feet from the barn – and other possessions from the impinging flames and heat of the barn fire by setting up a protective water line around the house, said Jay Kelchner, CFD second assistant chief, who was first on scene.
"Hand lines and master streams were used to wet everything down. Firefighters were also checking the inside of the house to make sure fire didn't spread. All other operations were done on what is called exterior attack, so at no time were any firefighters in an area where collapse was an issue," Kelchner said. "While all this was going on, as more equipment arrived on scene, we were able to position more hand lines to spray water on the barn. We even had an engine checking all the adjacent houses on Wellington Drive to make sure none hot embers did any damage."
(Continued on Next Page)
Prev Next
Vote on this Story by clicking on the Icon