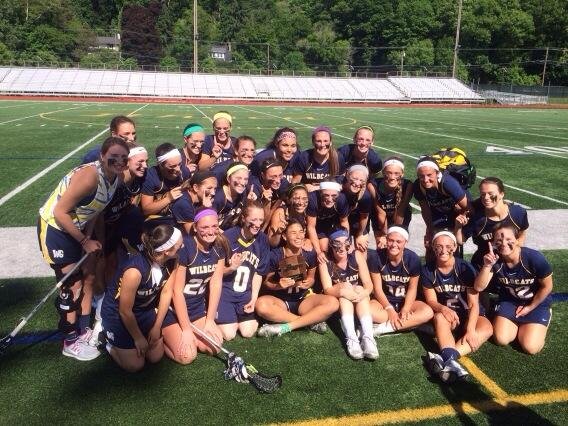 With the redemption of 2013 accounted for, the West Genesee girls lacrosse team, as Section III champions, could now go after something else – namely, a seventh state championship in program history.
The Wildcats faced Section IV champion Ithaca in the Class A regional finals Saturday at Ithaca High School, and despite playing a true road game, the Wildcats handled it with ease, smashing the Little Red by a score of 18-1.
WG did not fly out of the gate in the manner it had many times before, perhaps still getting the all-out effort it gave to beat Cicero-North Syracuse in the sectional final earlier in the week out of its system.
But the Wildcats still built a 4-0 lead, with two goals from Hannah Elmer and single goals by Jackie Pardee and Riley Donahue,when Ithaca called a time-out midway through the first half.
That did little to slow down the Wildcats, though, as it blitzed to a 10-0 edge by halftime. In terms of margin, it wasn't the most lopsided first half of WG's season, but it possessed the ball so much that Ithaca rarely had a chance to set up its attack in any manner.
Even with a running clock for the entire second half and plenty of substitutions to let the reserves see extended minutes, WG made it 18-0 before the Little Red finally broke up the shutout late in the second half.
It was freshman Mackenzie Baker leading the way, scoring three of her four goals in the second half. Elmer (three goals, one assist) and Marissa Hudgins (two goals, two assists) both had four points, too.
Donahue managed two goals and one assist. Pardee, Cailyn Negus, Grace Osterdale, Lindsey Rose, Brigid Regin, Nicky Delany and Gianna Branca also had goals as Madisyn Kittell contributed a pair of assists.
So now it is back to SUNY-Cortland for the state final four. In Friday's state semifinal at 2:30, WG faces Pittsford (Section V), the team it beat in a tough 8-6 decision on the road back on April 6. The winner of the rematch goes to Saturday's title game, also at 2:30.
Vote on this Story by clicking on the Icon