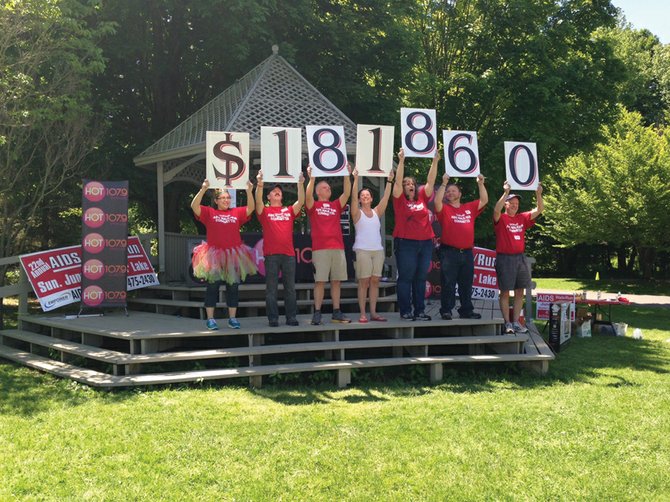 The 22nd Annual AIDS Walk/Run held June 1 at Beaver Lake Nature Center raised $181,860.
Since it began in 1992, the AIDS Walk/Run has been the mainstay funding for ACR Health's now extensive Adolescent Health Initiatives. The event has raised more than $2.3 million and positioned ACR Health as a state leader in youth education.
On May 20, the New York State Department of Health put forth it's "first-ever" Youth Sexual Health Plan designed to reduce the rate of HIV and other sexually transmitted infections, and reduce teen pregnancy rates.

ACR Health, because of generous donors, has educated tens of thousands of young people about sexual health and safety for the past 22 years.

"Young people deserve sound knowledge and good health," said ACR Health Deputy Executive Director Wil Murtaugh. "The state's new plan sets out seven goals — we already do six of those goals and would love to get state funding to do the seventh."
One hundred percent of AIDS Walk/Run proceeds stay in Central New York and support:
Adolescent Health Initiatives, which educate youth about HIV and other sexually transmitted diseases, plus other issues like drug and alcohol abuse, sexual and domestic violence, decision making, and peer pressure along with leadership skills development.

The Q Center, which is a safe place for lesbian, gay, bisexual, transgender, and questioning youth, their families and allies to gather. The mission of the Q center is to create a safe space and a safer community for all.

Emergency Client Needs not covered by funding, are provided on a case by case basis.

ACR Health would like to thank presenting sponsors Empower Federal Credit Union and UPS for their invaluable assistance; Runner Sponsor: W.B. Mason; Jogger Sponsors: Berkshire Bank, Entergy, Excellus BlueCross BlueShield, Fidelis, and Wegmans; Walker Sponsors: Baldwinsville Kiwanis Club, DJ Puff Advisors, KeyBank, Kinney Drugs Foundation, Marny & Company, Quest Diagnostics, and Syracuse Orthopedic Specialists; Friend Sponsors: Geddes Federal Savings, Oneida Savings, Sam's Club, and Walgreens; Media Sponsors: Fox 68 WSYT, HOT 107.9 Syracuse and My 43 WNYS. Special thanks to Beaver Lake Nature Center, Starbucks and Tim Hortons.

Vote on this Story by clicking on the Icon