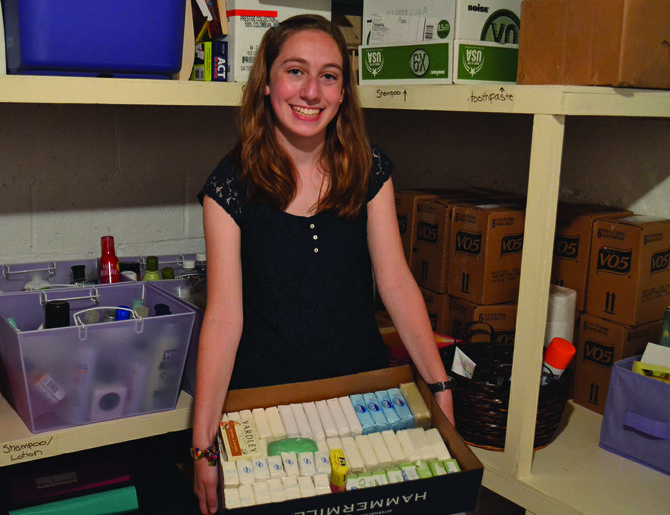 Fayetteville — It all started when Adena Rochelson volunteered at a local food pantry. Rochelson, who was 9 years old at the time, noticed an empty shelf that was intended to hold personal care items, like toilet paper and soap.
She learned that most people who visit the food pantry are on food stamps, and because food stamps do not cover the cost of toiletries, Rochelson decided to do something about it.
Her allowance and birthday money were used to purchase personal care items to donate. She began asking to do extra chores around the house and returning bottles and cans to earn extra money to put towards giving back.
"When I was in fourth grade, I thought I could solve poverty and fix the problem, but I soon learned that I couldn't do it all by myself," said Rochelson, 15, who lives in Fayetteville. "So I talked to my fifth grade teacher and I did my first toiletry drive in my classroom. We collected 25 items, and I was very proud of it."
From there, Rochelson began organizing more and more drives through the Fayetteville-Manlius schools, local churches and synagogues and other organizations. She reached out to companies that carry personal care items, like Wegmans and the Marietta Corporation, for donations. And in 2011, her organization, called Operation Soap Dish, became a registered non-profit.
"Most of Operation Soap Dish consists of me or other people doing drives," she said. "But sometimes organizations will donate items too. And once I have the items, I count them and sort them, and then I deliver them to an organization."
Rochelson said that she's counted more than 23,000 items since she began her effort six years ago. Since then, she has donated personal care items to organizations, including: St. Lucy's Food Pantry, the F-M Food Pantry, Sarah's Guest House, Vera House, the Ronald McDonald House and more.
(Continued on Next Page)
Prev Next
Vote on this Story by clicking on the Icon