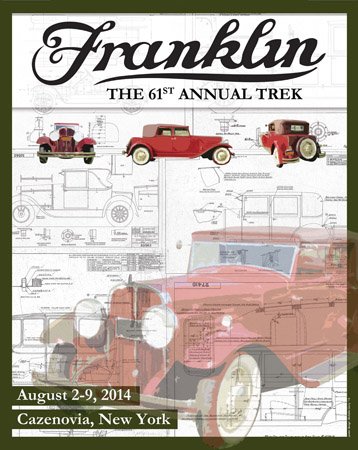 Cazenovia — When the 61st Annual Franklin Trek makes its visit to Cazenovia, Aug. 2 to 9, the classic automobile owners won't only be bringing nostalgia and history to the village community, but also non-perishable goods to be donated to the local food pantry, CazCares.
More than 200 Franklin cars will be on display during the week-long visit to Cazenovia and Central New York. The highlight of the week is the Franklin Car Parade, to be held on Sunday, Aug. 3, beginning at 10:30 a.m. In addition to showing off their Franklin automobiles to the Cazenovia community, drivers will be making non-perishable food items along the Albany Street parade route as their automobiles are being announced in front of Telephone Park.
The Franklin Trek members will spend the week at Cazenovia College, residing in the college residence halls, exhibiting their automobiles on the campus quad and exploring Cazenovia. During their stay, they will be invited to sample Cazenovia's many restaurants, visit the different local shops and meet the storeowners.
"The GCACC is pleased to welcome back to our community the Franklin Trek. Each year we look forward to their return; it's like the return of old friends," said GCACC Chair Jessica Amidon.
The event is a tradition in Cazenovia every summer, but the charitable twist to the past several Franklin parades makes the trek about more than just old-time-automobile nostalgia.
"CazCares and the many families it serves appreciate the generosity of the Franklin Club and its members," said Gigi Redmond of CazCares. "The food the owners of these magnificent classic cars are donating will help CazCares meet the continuing needs of its Cazenovia-area clients. On behalf of the more than 150 families who rely partly on CazCares for their daily food needs, our thanks go out to the Franklin Club."
For more information on the Franklin Trek, visit franklincar.org. To learn more about the event, call 655-9243 or email info@cazenovia.com.
Vote on this Story by clicking on the Icon