North Syracuse — For men, wearing a handsome — and unique — necktie can garner attention, start conversations and make a lasting first impression.
"When your tie looks like it's wearing a tie, that gets you a lot of friends," said Patrick Baker, a Cazenovia native and co-founder of TieBros. "For me, perception is reality. If you want to be perceived in a serious way, especially in this economy … you have to humbly set yourself apart."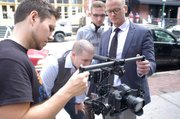 TieBros, an online retailer of premium pre-tied neckties with some of the world's most refined knots, not only wants to help men "stay classy," the founders also want to keep the business and the funding 100 percent in America — and they are currently in the middle of a Kickstarter fundraising campaign to help them remain headquartered in North Syracuse.
"We want to keep this in the states; we could do this cheap overseas but that's not what we want to do," Baker said. "Kickstarter is a way to give us a push … to get what we need and keep it in the states, to keep the money as local as possible."
TieBros was founded in 2014 by Baker and Christopher Dambach, both former Marines, who met while serving in Iraq in 2009. After being discharged, Dambach returned to Syracuse to start a business and Baker worked in Dubai and Afghanistan as drone contractor. When Baker returned to Central New York, he decided he wanted to start a business, but was not sure where to start. So he began attending business meetings and seminars, and, being a "tie guy," he would wear a necktie tied with an exotic knot.
"I wore the trinity knot and people were constantly coming up to me. That was my handshake," Baker said.
Soon, Baker and Dambach conceived the business idea to take these exotic necktie knots and make them permanent, not as a clip-on but a full tie with a buckle that hides under the collar. In a world where most men can tie nothing but a half-Windsor knot, TieBros offers a unique product that will last a lifetime, Baker said.
(Continued on Next Page)
Prev Next
Vote on this Story by clicking on the Icon