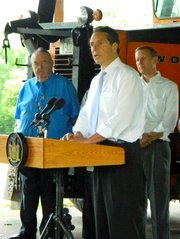 Smithfield — The National Weather Service confirmed Wednesday morning that the storm that killed four people in Smithfield Tuesday night was a tornado.
The round of severe storms that hit Madison County Tuesday evening caused widespread damage in the towns of Smithfield, Sullivan and Lenox. Hardest hit was Goff Road and Northrup Road in Smithfield, where the tornado came through, completely destroying four residential structures, damaging three residential structures and completely destroying one barn, Madison County Sheriff Allen Riley said during a press conference Wednesday morning.
Riley said his office received the first call at around 7:15 p.m. reporting a structure down on Goff Road. After the tornado had passed, emergency crews found two homes on Goff completely destroyed and one home on Northrup Road had been completely lifted off its foundations, carried across the street about 150 yards, where it landed on a second house that was empty at the time, Riley said.
Four people were killed as a result of the storm: Kimberly M. Hilliard, 35, and her daughter Paris M. Newman, four months, were inside one of the Goff Road homes destroyed; Virginia D. Warner, 70, was in the second Goff Road home destroyed; and Arnie D. Allen, 53, was in the Northrup Road house that was carried across the street.
"This is a tragic event that affects all of us in Madison County, not just the victims," Riley said at the press conference.
Gov. Andrew Cuomo also spoke at the press conference after taking a helicopter tour of the Goff Road and North Rupp Road area.
"The property damage in Madison County was explosive in its effect," Cuomo said. "It looks like literally a bomb went off in a house."
Cuomo said the series of storms Tuesday night in not only Madison County but also Lewis, Jefferson and Onondaga counties left about 70,000 people without power — 40,000 of which are still in the dark.
(Continued on Next Page)
Prev Next
Vote on this Story by clicking on the Icon