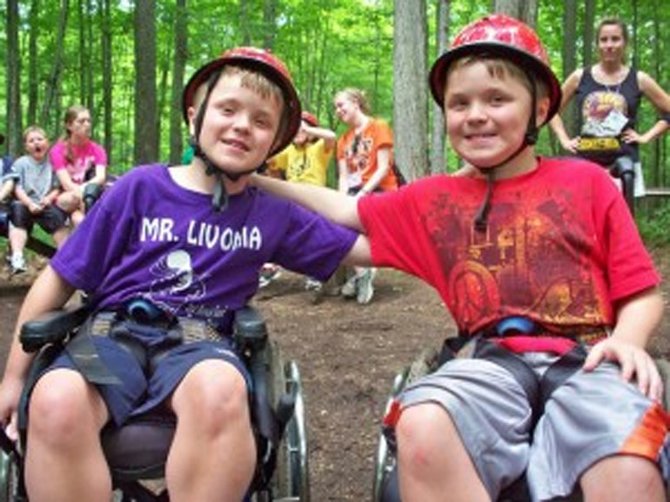 Cazenovia — This story was updated at 1:30 p.m Thursday, July 3
A solution has been found to the quell the recent brouhaha over the Syracuse Chargers Track Club's denial of the request of 12-year-old twin boys, Jack and Nolan Willis of Manlius, who have muscular dystrophy and are wheelchair-bound, from participating in the annual Cazenovia July 4 Foot Races 10-mile race tomorrow.
After nearly 36 hours of outrage and criticism directed against the club for its decision, the Chargers board announced that the Willis brothers will be allowed to participate in the race. The boys and their running group — Team 2 Smiles, a group of six to seven experienced runners who take turns pushing the boys' racing buggies in the race — will start at 8:30 a.m. from the 10-mile start line. This is 15 minutes before the general start of the 10-mile race. The Chargers also have created a team category for the boys and their teams of pushers, and the Cazenovia village police and local volunteers are providing additional resources to keep everyone involved safe.
"The bottom line is we were able to work out a good solution and try to cover logistical and safety-related concerns, and came up with a good outcome," said Mayor Kurt Wheeler.
Wheeler said that after a series of ongoing emails and discussions between the race organizers and Team 2 Smiles Wednesday evening and Thursday morning, a "successful formula" was found to allow the boys to participate in a way that was safe for them, their team and the other runners in the race.
The news broke early Wednesday morning, July 2, that the Syracuse Chargers Track Club had denied the request of Jack and Nolan Willis from participating in the annual Cazenovia July 4 Foot Races 10-mile race this Friday.
Although the brothers have participated in such races before — being pushed in racing buggy/baby jogger-type conveyances by a group of six or seven experienced runners — the board of the track club decided that the request created too many safety hazards for participating runners as well as for the "passengers and pushers of those conveyances," and therefore denied the request.
(Continued on Next Page)
Prev Next
Vote on this Story by clicking on the Icon