The outside air temperature sure has hit bottom. The lake level is increasing a few inches and is close to 862 feet. It looks like the city is not working to get it down to 861 for Feb. 1.
The ducks are closed out by ice in Bentley Cove. Last week I saw three redheads feeding during one of the light snowfalls. Sue said she saw a group of buffleheads just outside the ice line and I saw three mergansers feeding there.
Last Tuesday Jan. 21, Mr. Lemon stirred and made a commotion to go out at 3 a.m. We left the light on, as he usually comes back in 5 to 10 minutes. With the temperature is cold as it was, we neglected to put on his invisible fence collar.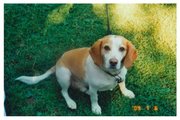 At 6:30 p.m., Sue turned off the light, but found no sign of Lemon. I got up and surveyed the fire lanes and driveways. I also called a number of the neighbors to be on the alert for Mr. Lemon and to call me. I followed his tracks across two lots to the north and they did not go anywhere. I came in, warmed up and went back out to track down the trail to the bridge and beach at the creek. I saw no new tracks. I could tell Monday's tracks from Tuesday's, as we had a very light snowfall overnight.
The day was getting short and I made one last driving traverse of Wagon Wheel Drive and Greenfield Lane at about 4:30 a.m.
Wednesday morning I got a call from Dave Graham that Tracy Greenfield had seen a dog in the snowbank at the south side of Wagon Wheel and Route 41A. We went up and it was Mr. Lemon. He was lying there looking quite composed in the sphinx position (one of his favorites) with his face resting on his front paws. Tracy said that she did not know he was missing until she got the news from someone in their family. She said she first saw him about 5:30 p.m. Tuesday and she speculated that a highway snowplow might have tossed him over to the snowbank. He was two driveways from home and was possibly working his way back for dinner at the usual time.
(Continued on Next Page)
Prev Next
Vote on this Story by clicking on the Icon