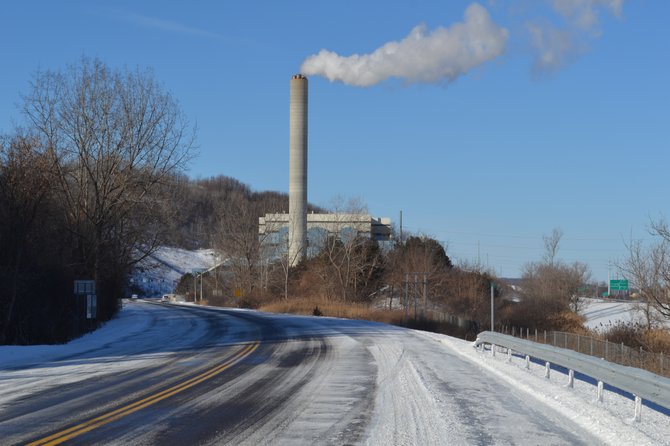 continued — However, before any formal agreements can be made, both the Onondaga County and Cortland County legislatures would have to vote on the issue. Back in 1992, the Onondaga County Legislature passed a law which bans non- Onondaga County waste from being brought in-county to the incinerator. In order for "Ash for Trash" to happen, Onondaga County would be required to modify its existing solid waste management plan and submit it to the Department of Environmental Conservation for approval. To do that, the legislature would have to either make an exemption to the existing law or potentially change the law all together.
Vicki Baker, a former county legislator and member of the Jamesville Positive Action Committee, was instrumental in passing that law and has been against the incinerator from the beginning. She said she doesn't want to see Onondaga County become a place for other parties to import their trash.
"The reason that law was put into effect was so there could be an assurance to the community that this would not happen – that we wouldn't become a dumping ground," Baker said. "The Covanta incinerator in Niagara Falls imports trash from places like Canada, Puerto Rico, Texas and numerous other states. And that's not what I want to see happen here."
Lawton said that OCRRA does not want to see trash from other places brought into the incinerator, but suggested that if OCRRA cannot come to an agreement with Covanta, the facility could be turned over to Covanta for full ownership. If the incinerator were to become privately owned, the county legislature would have no say in where trash can be imported from. But if the "Ash for Trash" idea came to fruition, it could make a renewed service agreement between OCRRA and Covanta more appealing.
"In the long run, if ['Ash for Trash'] helps us stay involved, it's a much better thing for our community over time," Lawton said. "And the emissions and amount of trash [from Cortland County] are small – it's comparable to if a big manufacturing company decided to open in Syracuse – it's not very different from a volume or emissions perspective. To us, it's important to look at the facility for the long-term."
Vote on this Story by clicking on the Icon