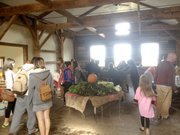 Cazenovia — On any given day during the planting season, a person driving down East Lake Road in Cazenovia may see Matt Volz, or his partner Gillian Goldberg, out in the fields driving a horse-drawn plow. Occasionally, Volz, dressed for the weather and dirty from work, may be standing on the stopped plow, while the horses patiently wait, as he talks or texts on his iPhone.
This juxtaposition of tradition and technology, of old and new, is the essence of Greyrock Farm's Consumer Supported Agriculture (CSA) program: a year-round offering to members of not just seasonal vegetables, but also grass-fed beef and lamb, pastured pork and chicken — all of which are raised, slaughtered and processed on-site — as well as eggs from pastured laying hens and raw milk.
"For us, we try our hardest to have more [offerings each week] than our CSA members can ever possibly eat," Volz said. "Any extra we can sell to restaurants or give to a food bank."
CSA programs have been a popular way for more than 25 years for consumers to buy local, seasonal food directly from a farmer. In a typical program, a farmer offers a certain number of "shares" to the public, which usually consist of a box of vegetables, although other farm products also may be included. Consumers purchase a share through a membership or subscription and in return receive a selection of seasonal produce each week throughout the farming season.
For farmers, CSAs allow them to market directly to customers, to realize income earlier in the season rather than having to wait for the harvest to be completed and to get to personally know their customers. For consumers, they not only get fresh foods straight from the farm, but they become exposed to new vegetables and new ways of cooking and also get to see where the food is grown or raised and meet the farmer who grew and raised it all.
(Continued on Next Page)
Prev Next
Vote on this Story by clicking on the Icon