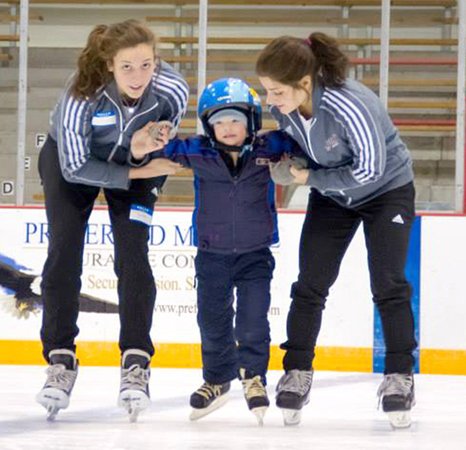 Hamilton — In early January, Colgate Women's Ice Hockey Team hosted a five-day skating program designed to meet the needs of children and young adults with autism spectrum disorders and related disabilities. The program also welcomed siblings and friends. Families came from Cazenovia, Hamilton, Morrisville, Norwich, Rome and Syracuse to participate in the program that was offered free of charge. Eighteen young people participated in all.
The team's goal was to maximize each skaters' potential as an athlete, build confidence and have fun. They succeeded on all three counts, and parents raved about the program.
"It's just awesome! I'm so happy to see Remington engaged in something — she really seems to love it," said Shannon Brade.
Alicia Toomath agreed. "I am loving this program. So is [my husband]," she said.
Members of the team were equally enthusiastic. Team co-captain Jocelyn Simpson, who directed the program, said, "I was so pleased with how the program went. The children had a great time and I know my team enjoyed themselves."
Although this is the first year for the inclusive skating program, the Colgate Women's Ice Hockey Team has a long-standing commitment to supporting the families of people with autism. Each year they host an Autism Awareness game during which they raise funds for autism related causes. This year it will be at 7 p.m. Friday, Jan. 31, at Starr Rink in Hamilton. All are invited to attend and support the team.
Regina Conti is an associate professor in the department of psychology at Colgate University.
Vote on this Story by clicking on the Icon