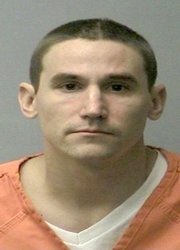 A Cazenovia man who was arrested in October for allegedly burglarizing homes in the town of Fenner was arrested again this month and given additional charges for the crimes.
Keith R. Garrison, 33, of Cazenovia, was arrested Jan. 2 by the Madison County Sheriff's Office Criminal Investigation Division and charged with two counts of burglary in the second degree (class C felonies), grand larceny in the fourth degree (class E felony) and petit larceny (class A misdemeanor), according to a statement from the sheriff's department. He was arraigned at the Town of Lincoln Court and remanded to the Madison County Jail in lieu of $10,000 cash or $20,000 bond bail.
According to the sheriff's office, Garrison is alleged to have broken into two residences in the Town of Fenner in October 2013 and stolen gaming systems, computers, a rifle, cash and jewelry.
Garrison was originally arrested for the alleged crimes on Oct. 28, 2013, when an undercover sheriff's investigator observed a vehicle matching the description provided by victims as possibly used in the burglaries in the driveway of a residence on Oxbow Road in Fenner. A male subject ran from behind the residence and entered the driver's seat of vehicle, then drove the vehicle around the investigator's vehicle and fled northbound on Oxbow Road. The investigator pursued the vehicle and stopped the vehicle about three-quarters of a mile from the residence.
Garrison, as well as his female passenger, Brittaney J. Mayer, 25, of Remsen, were arrested. Both were charged with burglary in the second degree, possession of burglar's tools and criminal mischief in the fourth degree and arraigned in Lincoln town court. Garrison was remanded to the Madison County Jail in lieu of $50,000 cash or $100,000 bond.
Garrison still was in the county jail from his October arrest when he received the new charges against him on Jan. 2 and remains incarcerated there. He is being held now on $60,000 bail or $120,000 bond, said County Undersheriff John Ball.
Jason Emerson is editor of the Cazenovia Republican. He can be reached at editor@cazenoviarepublican.com.
Vote on this Story by clicking on the Icon