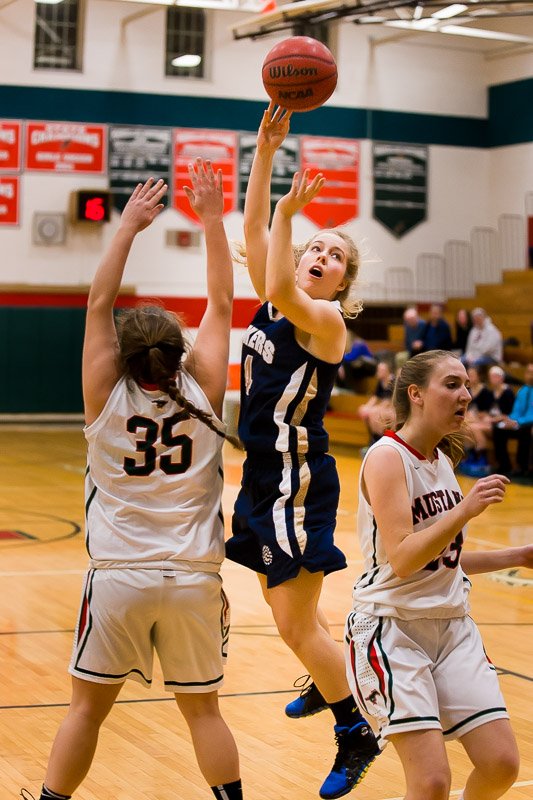 continued — Blasi said that she talked to Beatson early in the season, emphasizing to her that, as a senior, she needed to take on a larger leadership role. Ever since, Beatson has stepped up her game, and against Marcellus she notched 13 first-half points, capped by a 3-pointer just before the horn, that gave the Lakers a 41-29 halftime lead.
All through the second half, the Mustangs remained in the game, as Shelby Nye, who had 23 points, led her side's effort, at one point moving within six, 63-57, with more than two minutes to play.
But the Lakers closed with one more burst, 12-1, and it was Elizabeth Lane in the lead role. All game long, Lane had contributed in numerous ways, and the junior didn't stop until she had compiled 24 points, nine assists and six steals.
And as she has done all season, senior forward Molly Wood proved a defensive bedrock, putting away 14 rebounds and adding four points as Sarah Tomlinson contributed 10 rebounds and six points. Dobrovosky, despite her foul trouble, earned eight points.
About the only thing Skaneateles had to worry about in last Monday's game against visiting Phoenix was getting caught looking ahead to Marcellus – and that didn't turn out to be a problem.
The Lakers smashed past the Firebirds 67-30 to run its win streak to eight games, making most of its shots in a 23-7 first-quarter blitz and extending the margin to 45-18 by halftime.
With the score 60-21 going to the fourth quarter, the Lakers' starters rested. By then, Beatson had picked up 20 points, hitting on four 3-pointers, while Dobrovosky earned 14 points, 10 rebounds and six blocks. Tomlinson managed 12 points and Lane gained five steals to go with 11 points.
Skaneateles has a good chance to stretch the win streak into double digits next week as it stays on the road for games against Solvay on Tuesday and Cazenovia on Thursday night.
Vote on this Story by clicking on the Icon