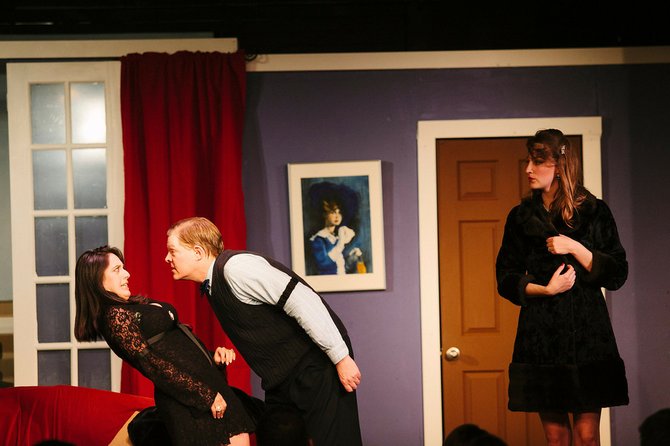 continued — Actress Binaifer Dabu makes the most of her role as Miss Tippdale, the shop's often-put-upon receptionist, and Navroz Dabu and Kate Huddleston round out the cast as the befuddled Commander and Mrs. Frencham. Sharon Sorkin spends some time in storage as Harry's sexy secretary, Mrs. Lawson, and Jon Wilson makes his presence felt in Act 2 as Mrs. Lawson's lower-class husband, complete with toothpick and cockney twang. Gina Fortino, as the notably unattached Mrs. Whittington, flutters her eyes while shooting suggestive glances during her brief appearances modelling furs.
A couple mistaken identities, a constantly ringing telephone, and a well-timed elbow to Arnold's crotch all inspire laughter. Stillman especially shines when Cooney's dialogue rises above its usual banter. In Act 2, Arnold describes the give-and-take between the two mistresses as though it was a tennis match, and Stillman smacks a solid ace with that simple metaphor.
"Not Now, Darling" continues at CNY Playhouse, near the Macy's entrance at DeWitt's ShoppingTown Mall, at 8 p.m. Thursday, Friday and Saturday, Jan. 23, 24 and 25, and 2 p.m. Sunday, Jan 26. Tickets cost $15Thursday and Sunday and $20 on Friday and Saturday, or $34.95 for 6:30 p.m. dinner and 8 p.m. show on Saturdays; 885-8960; cnyplayhouse.com.
Vote on this Story by clicking on the Icon