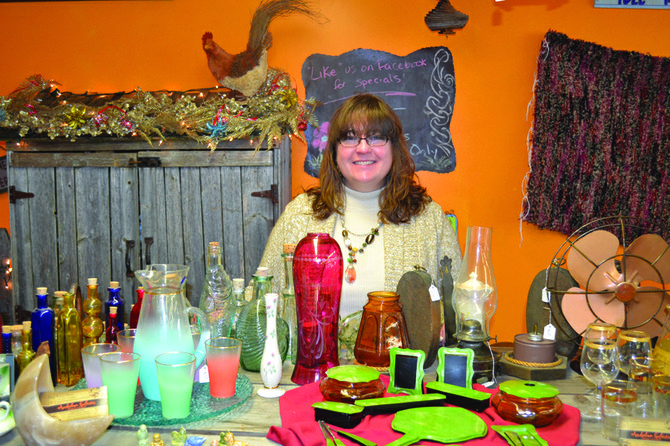 Manlius — Six months ago, Audobon Eclectic Antiques owner Nikki Waters wasn't sure if she'd still be in business at this time – and that shows how much can change in six months. Today, she's seeing a steady stream of customers and is prepping for her store's Grand Opening in its new location, still at 131 West Seneca Street in Manlius, but in the space directly above where the store used to be.
"We first opened in March 2012 downstairs, and we were kind of limping along," Waters said. "I started thinking that when our lease was up, we would either quietly fade into the darkness or look for another location and see if we can afford it or if it's worth it at the time. Then a couple months after that, Joann [Snook, who owns the Heckled Hen Antiques] told me she was going to be moving to a new location, and that got the wheels turning."
And when the Heckled Hen moved across the street at the end of September, Waters jumped at the chance to move upstairs to its former location and set up shop.
"It was kind of scary because it's double what we were paying downstairs, so it was like, 'Well, either we'll go out of business twice as fast or we'll do great,'" she said. "I figured there was only one way to find out. And so far, we've been doing really well."
Since opening in upstairs during the first week of October, Audobon Eclectic Antiques has been able to diversify the items in the store a bit more to include larger furniture.
"We used to have a staircase with a 90 degree turn so we were really limited with the kind of furniture that we could have," Waters said. "It had to be something small that we could carry down the stairs."
(Continued on Next Page)
Prev Next
Vote on this Story by clicking on the Icon