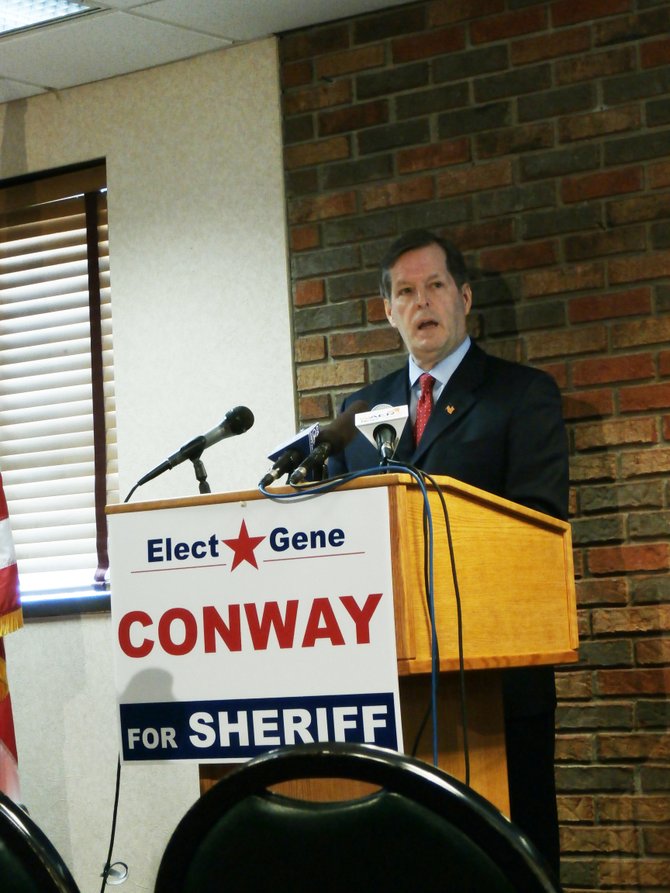 DeWitt — Citing his record "experience, training and record of leading people and meeting budget goals", DeWitt Police Chief Gene Conway today announced his candidacy for Onondaga County Sheriff in 2014.
At a morning news conference, Conway, a Republican, pointed to his 37 years in law enforcement, beginning as a rookie police officer in the village of North Syracuse. Later, he served for 24 years in the Onondaga County Sheriff's Department, rising to the post of Captain of Criminal Investigations.
In 2002, he was appointed Chief of Police and Public Safety for the Town of DeWitt, a position he still holds.
"I've worked my way up. No shortcuts. I'll gladly put my experience and qualifications up against any other candidate," Conway said.
Conway holds a Bachelor's Degree in Public Justice from SUNY Oswego. Additionally, he has been further trained by the U.S. Marshal's Service, the Secret Service and the Drug Enforcement Administration.
His leadership skills and record of managing multimillion dollar budgets will also be a plus, he said.
"The taxpayers of Onondaga County deserve a Sheriff's Department that gets the most out of every tax dollar", he noted.
Conway, 60, and his wife Ann live in Camillus. They are the parents of two adult children.
Vote on this Story by clicking on the Icon