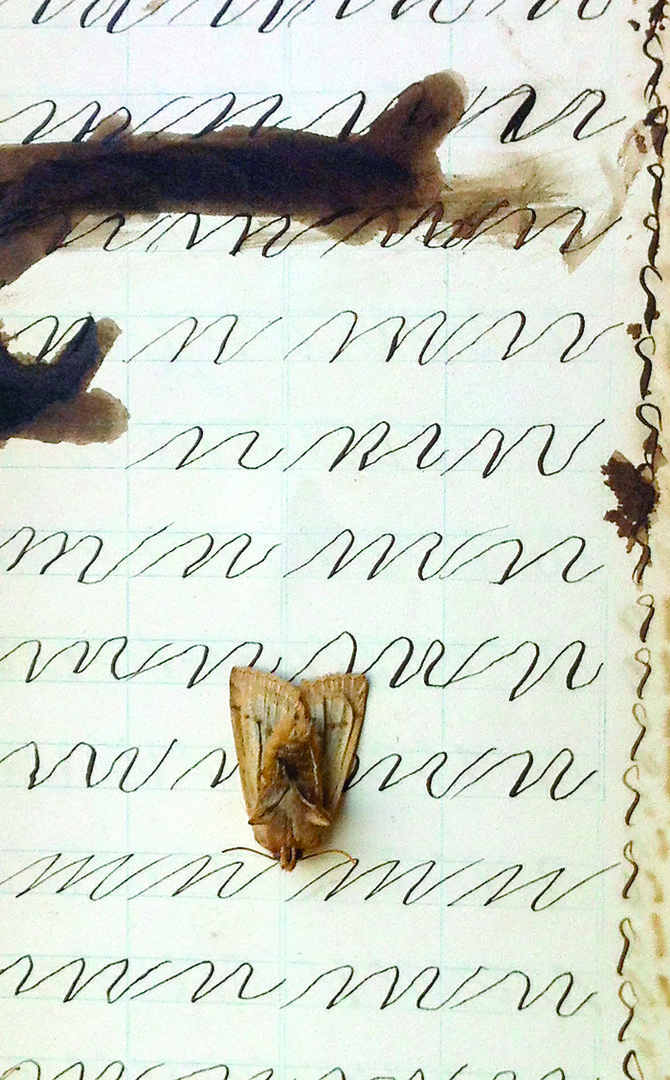 Cazenovia — The Cazenovia College Art Gallery in Reisman Hall will host Lasse Antonsen's "In the Scriptorium" exhibit from Thursday, Jan. 23, through Friday, Feb. 14. The exhibition commences with an opening night Artist's Reception from 4 to 5:30 p.m. on Thursday, Jan. 23.
For his exhibition, Antonsen presents work that directly or indirectly incorporates and references books and text. Antonsen works with found objects that he recontextualizes by juxtaposing them to other objects and by presenting them as museum or art objects.
An early work, "Letters," from 1994, is based on a juxtaposition of pages from an adult literacy and handwriting book with dead moths. A recent work, "Not Quite Red," from 2013, features pages of photographs from a book published in Prague in 1982 that celebrates official Communist artists and features them in their studio. Antonsen has "blackened" their eyes with red strips taken from the endpapers of the book.
For Antonsen, art is about the individual, and the influence of culture and politics. Much of the work on display references philosophy and the philosopher's role in society. Antonsen uses text by the German philosophers Husserl on the color red. He has also created several works that reference the life of Husserl's student, the philosopher Heidegger. Related to this work, which is about the philosopher's role in society, is a group of works, "Geöffnet," also from 1994, which feature envelopes inspected and censured by the Nazis before and during WWII. The envelopes are juxtaposed with cicadas, a gesture that for Antonsen references cycles of Fascism.
Although Antonsen's work is conceptual, he pays great attention to theatricality, and in presentation relies extensively on the enigmatic nature of objects and their evocative beauty.
For more information about Lasse Antonsen the artist, the "In the Scriptorium" exhibit or to view his artwork, visit cazenovia.edu/art-gallery or lasseantonsen.net.
The Cazenovia College Art Gallery in Reisman Hall, 6 Sullivan St., is on the corner of Sullivan and Seminary streets in Cazenovia.
For more information, contact Art Gallery Director Jen Pepper by email to jpepper@cazenovia.edu.
Vote on this Story by clicking on the Icon