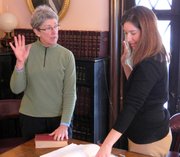 Cazenovia — Three town officials were officially sworn-in to office on Thursday, Jan. 2, including the new town supervisor and the new town clerk.
Beginning at 8:45 a.m. on the first business day of the new year, Town Clerk-elect Connie Sunderman, the former deputy town clerk, was officially sworn-in to her new position by Town Justice Timothy Moore at the town office.
At 9:30 a.m., dressed in coat and tie, Town Supervisor-elect Bill Zupan stood in the town board meeting room, placed his left hand on a Bible, declared the official oath of office as administered by Sunderman and took office as the new town supervisor. The event was witnessed by Zupan's wife Maureen, Councilors Kristi Andersen and Liz Moran and Barbara Howland, administrative assistant to the town supervisor.
"I'm excited about the challenges of the position and doing the best I can for the citizens of Cazenovia both at the town and county levels," Zupan said after the ceremony. He said he had already received his first official call as town supervisor, about 15 minutes before he arrived at the town office.
Shortly after Zupan's swearing-in, Andersen also took her oath of office to continue in her town board seat.
"I'm looking forward to continuing to work with a very competent and functional town board and town staff," Andersen said.
Zupan, Andersen and Sunderman all were elected to their respective positions this past November during the town elections, in which 1,222 residents voted. Zupan, a town councilor at the time, ran in an uncontested race and received 860 votes. Town councilors Andersen and Pat Race both won reelection in uncontested races, Andersen with 707 votes and Race with 843 votes. Sunderman was elected in an uncontested race with 929 votes.
Race, who was not present during the Jan. 2 swearing-in ceremony, will take his oath of office at the board's Jan. 8 work session, Sunderman said.
With Zupan's official ascension to town supervisor, his town board seat is now vacant. The board has discussed and already chosen whom it will appoint to fill the empty seat, and will announce the appointee's name at the Jan. 13 regular board meeting, Zupan said.
Jason Emerson is editor of the Cazenovia Republican. He can be reached at editor@cazenoviarepublican.com.
Vote on this Story by clicking on the Icon