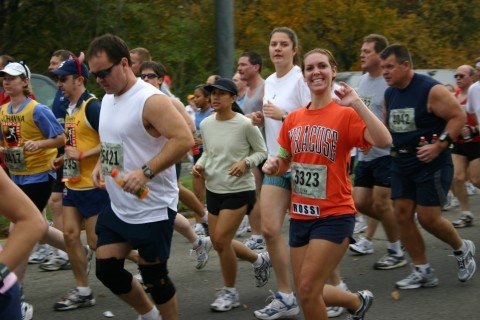 Boston, Mass. — Kay Rossi fell in love with running during her years playing lacrosse at Fayetteville-Manlius High School. And now, 15 years later, she's hoping to achieve her long-time goal of running the Boston Marathon - and at the same time, she'll be raising money for The Children's Room, a Boston-area children's bereavement center close to her heart.
"Immediately after what happened last year, I knew I wanted to run the Boston Marathon in 2014," Rossi said. "It was such a scary and weird time. Nobody knew what was going on that week and people weren't leaving their houses. The bombing happened on Monday, and by Friday, everybody in Boston came together in thinking that, 'We're going to get him, he's not going to get away with this.' That idea of community and support for each other and the city was really powerful."
Rossi ran her first race in 2004, during her senior year at George Washington University, where she studied psychology and kept active by playing on an intramural lacrosse team.
"I didn't really train for the Marine Corps Marathon, and it was both a rewarding and miserable experience," she said, laughing. "Looking back on it, my senior year of college of college was probably not the best time to run a marathon. But after I finished it, I thought, 'That was awful, but I'm going to do it again and I'm going to do it better.'"
And she did. Rossi began running regularly again, and in 2009, she ran the Marine Corps Marathon again, improving her time immensely. Soon after, she decided to move back north to Boston, which is where she first heard about The Children's Room.
The Children's Room the largest independent, non-profit organization in Massachusetts dedicated to creating safe, supportive communities so that no child, teen or family has to grieve alone. Staff and volunteers help more than 180 children, ages 3 to 18, who have lost a loved one, through peer support groups and arts therapy at no cost to their families.
(Continued on Next Page)
Prev Next
Vote on this Story by clicking on the Icon