DeWitt — When Larry Schunck was a young boy he saw firsthand what volunteering is all about when his father took him to the DeWitt Rotary Annual Pancake Day. Over the years, Schunck observed how many volunteer members of the club it took to put on such a large and important event. Schunck was also exposed to volunteering through the Boy Scouts. His father was the scoutmaster of Troop 22 in DeWitt, which was involved in many community projects. Schunck also involved himself as a volunteer at his church.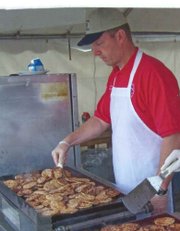 Larry, son of George and Barbara Schunck, was born in Syracuse and graduated from Jamesville-Dewitt High School. After graduating from Ithaca College he worked for the Hartford Insurance Company in Buffalo, Woodbury/Long Island and New Hartford. Schunck then returned to Syracuse to work for Longley-Jones Associates and CB Richard Ellis where he had a successful commercial real estate career for 20 years. Now, Schunck works for Pomeroy Appraisal Associates, Inc. where he specializes in commercial real estate appraisal, and has become vice-president of the firm.
Schunck credits John Farnham, the father of one of his friends, in his joining the Rotary Club of DeWitt in 1987. This year is the 60th anniversary of the club, and it will also be holding its 60th annual Pancake Day in May. Over the last three years Pancake Day has raised more than $100,000, which supports many charitable organizations and worthwhile causes. While it takes all members of DeWitt Rotary to plan, organize, and operate this event, there are some who lead the way in commitment and painstaking effort. One of these people is Larry Schunck.
When Schunck joined DeWitt Rotary, he immediately began volunteering for Pancake Day. Little did he realize that this would evolve into his having the most physically demanding and dirtiest job of the event - the grills. Needless to say that without clean, working grills, there would be no Pancake Day. There are 16 grills, each one heavy and requiring much maintenance.
(Continued on Next Page)
Prev Next
Vote on this Story by clicking on the Icon