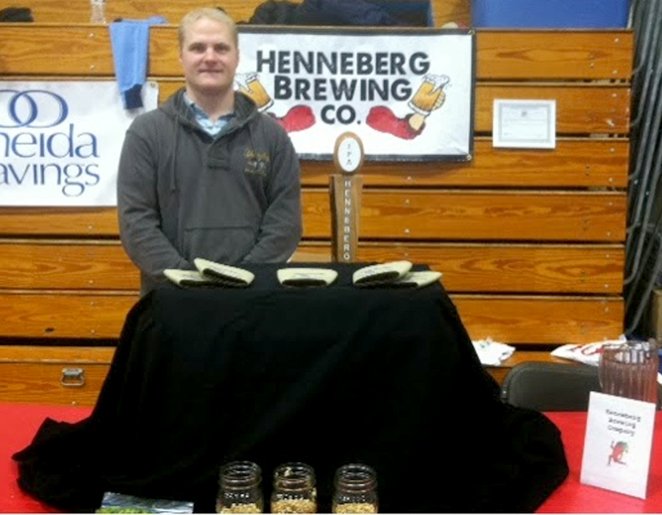 Cazenovia — It was announced on Facebook Tuesday and will take effect Saturday: the Albany Street restaurant and bar Henneberg Tavern is closing.
Owner John Henneberg said that balancing family, the tavern and his Henneberg Brewing Co. farm brewery in New Woodstock "has just gotten to be a lot," and he had to make a choice: focus on the tavern or focus on the brewery. "I can't put 100 percent into the tavern and the brewery at the same time," he said. "I needed to pick — my passion is brewing, and it seems to be a good fit right now too."
So Henneberg and his wife Maria decided to sell the tavern they opened at 64 Albany St. in July 2012 and from now on focus all their energies on making their eponymous beer.
Henneberg Tavern has been a local hot spot for great burgers, to have a drink and watch a sports game, play darts and sing karaoke. And it was the first place that John Henneberg began selling his first three styles of homemade beer — a California Common, an Irish stout and an IPA — when he officially opened the brewery in August 2013.
The brewing company is located on the Henneberg's 97-acre farm in New Woodstock, where they not only brew the beer, but also grow and process their own hops and grains. Henneberg currently makes about two barrels per week, with a future goal to upgrade his barrel system and produce about 300 gallons per week (about 15,000 per year). He plans to open a tasting room at the farm this summer.
"The brewery is picking up lately. The problem has been that I can't brew enough because of time constraints, especially with malting my own barely. And now with spring coming, I have a lot of hop field work that I do myself," Henneberg said. "I've got a lot of work to do, but I'm excited to be able to put all my effort into the brewery."
(Continued on Next Page)
Prev Next
Vote on this Story by clicking on the Icon