Local fire departments, boy and girl scouts, church congregations, postal workers, bakeries and rotary clubs all have one thing in common. All these organizations contribute donations to the Skaneateles Ecumenical Food Pantry.
Operating for more than a decade, the food pantry is a local success story, demonstrating how a community can come together to help its less fortunate members year after year.
Throughout the year, the pantry is either involved with, or the beneficiary of, countless charitable programs and initiatives.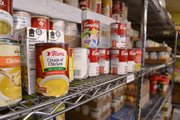 Though many people associate food pantries and charitable giving with certain times of year, the pantry in Skaneateles is open 50 weeks a year and always benefits from donations, especially during periods, such as February and March, between major holidays, Pantry Chairperson Judy Gelston said.
"Can I plan on any single thing? Absolutely not, but somehow everyone seems to step up," Gelston said. "Everybody does a little, you'd be surprised."
The food pantry, located in the same building as the school district's transportation center on West Genesee Street, was formed around 2000 when several local church food pantries came together to pool their resources and services, Gelston said.
Today the pantry is affiliated with eight local churches: Holy Trinity Lutheran Church, Skaneateles United Methodist Church, St. James Episcopal Church, The First Presbyterian Church of Skaneateles, Owasco Reformed Church, St. Mary's of the Lake, Grace Chapel and St. Andrew's United Methodist Church.
In addition to donations, the pantry receives funding from the federal government with occasional support from the state government. Its overhead and operating costs are practically nonexistent since it is operated entirely by volunteers and is given access to space in the school district's building for free, Gelston said.
Though it is only open to clients for two hours every week, a team of about 35 volunteers are frequently busy collecting and organizing donations, volunteer Joan Tarolli said.
(Continued on Next Page)
Prev Next
Vote on this Story by clicking on the Icon