Cazenovia — No one knows for sure how long it's been here. But, chances are, it was from almost the very beginning: a simple wooden podium at which generations of Cazenovia High School teachers and students probably delivered speeches, gave pop quizzes, engaged in debates and read aloud.
For years, the lectern quietly resided at the school, moving every so often from one classroom to the next. Until this year, when English teacher Kristina Chiarello looked more closely at the slightly scuffed piece.
Maybe, she thought, it would make a nice community service project for students. They could strip it, stain it, make it look like new.
Before giving the project her blessing, however, Assistant Principal Susan Vickers wanted a quick peek at the piece. She quickly noticed the brass plate that indicated the podium was a gift from the Class of 1936. And something else, too — a stamp on the underside that reads, "Stickley – Syracuse."
"I said, 'Wow, that's the original plant,'" Vickers said. "We need to have a professional look at this."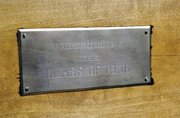 The maple podium, it turns out, was crafted in the original L. & J.G. Stickley factory on Burnet Avenue in Syracuse — the same craftsman workshops in which the company's first signature mission furniture was built in 1900.
According to Stickley corporate historian Mike Danial, the podium is part of Leopold and John George Stickley's Contract line, designed mostly for colleges and schools during the years just prior to World War II.
"There are many of these desks and bookcases and file cabinets and tables in a wide range of institutions across Central New York, Pennsylvania, Ohio — it just goes on and on," Danial said.
The corporate archives are filled with boxes of orders for contract objects for schools, universities, hospitals, nursing homes and more, he said.
(Continued on Next Page)
Prev Next
Vote on this Story by clicking on the Icon