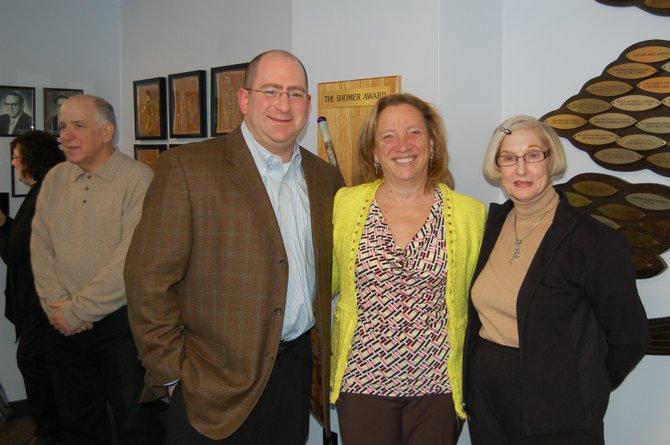 DeWitt — Menorah Park of CNY dedicated the Temple Beth El Community Room, a public space containing artifacts from the former temple on Feb. 16. An overflow crowd of community and religious leaders, along with people affiliated with the former Temple Beth-El congregation, were present.

The Beth-El Community Room houses sacred Jewish objects, including four of the temple's stained glass windows. According to Victoria Kohl, Menorah Park of CNY Foundation vice president, it is also a space that will be used for reflection, study and for special events.

"Honoring Temple Beth-El's legacy in our community is just the first phase of what we plan to be the destination for the Jewish art and artifacts of our local families and institutions and to work towards the building of a museum of Judaica on Menorah Park's campus," Kohl said. "This will take more time, more people involved and definitely more space."
Temple Beth El, founded in 1965, was heavily damaged in an arson attack in 2000, re-opening in 2001. In 2007, the synagogue was closed and later the same year, many members joined Congregation Beth Sholom-Chevra Shas.
"The city of Syracuse has a rich collection of Judaic and historic memorabilia which may not be preserved let alone displayed if we don't create a place of safe keeping for our community's sacred and familiar objects," Kohl said. "I'm very excited about the Temple Beth El Community Room and it is my hope that people will visit it and get involved in our project development."
All are welcome to visit the Temple Beth El Community Room. It is open every Wednesday afternoon from 3 to 5 p.m. For other times, call Kohl at 446-9111 ext. 141 to make an appointment.
For more information, visit menorahparkofcny.com.
Vote on this Story by clicking on the Icon