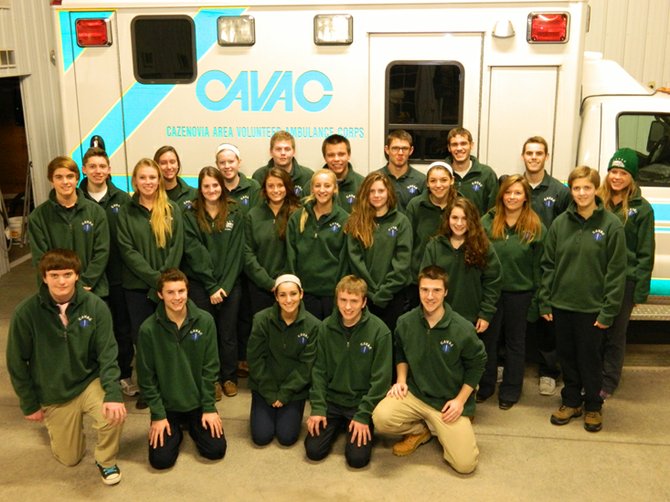 Cazenovia — There are high school students in Cazenovia who have literally helped save people's lives — and if other teens are interested in learning about and participating in emergency medical services, the CAVAC Student Corps is actively seeking new members.
"We are looking for more students who want to be involved," said student corps Chief of Operations Pat Karmis. "We attend monthly meetings, we do shifts with the paramedics, we go on calls and do things like set up oxygen and IV lines: we basically act as an extra pair of hands."
The Cazenovia Area Volunteer Ambulance Corps consists of volunteer drivers, dispatchers, EMTs and paid professional paramedics that provide ambulance and walk-in pre-hospital care to Cazenovia and surrounding communities. The student corps members are teens — many of whom are interested in pursuing medical careers — who assist the paramedics; attend training, meetings and community activities; and assist in educating the public.
Cazenovia, in fact, is the only town in Central New York that has a student corps comprised of high school students.
"This is definitely something for people who like to do this; it's not just for high school community service. It's actually a lot of commitment," said Vivian Wilt, student corps vice president.
"I was surprised at how much you really help out [the paramedics]; they really rely on you for stuff," said Allissa Parella, student corps treasurer, who plans to major in pre-med in college.
Parella said that while her ambulance shifts have consisted of a lot of college student alcohol incidents, her very first shift was a chainsaw accident. Student corps Secretary Riley Lloyd said that, among other experiences, he was on the call last October when Charlie Thompson fell down the well.
"Some students realize it's too much to go out on calls, and if they don't feel comfortable they can choose not to go or go home," Karmis said. "If you feel this is something right for you, yes I recommend it, especially if you want to pursue a medical career."
(Continued on Next Page)
Prev Next
Vote on this Story by clicking on the Icon