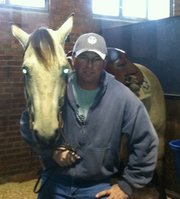 Fenner — Richard "R.E." Sears has been appointed to fill the vacant seat on the Fenner Town Board, a position he will occupy until the November elections. The appointment was unanimously approved by the board during its Feb. 13 regular monthly meeting.
"We've talked to a few people and have come to a conclusion on who we want," Town Supervisor Dave Jones announced during the meeting.
Sears, who was not present at the Feb. 13 meeting, is 42 years old and has been a Fenner resident since 1998. He currently works as a farrier (specialist in equine hoof care), runs a horse training facility in Fenner and teaches a reining class in the equine program at Cazenovia College. He is also a volunteer firefighter in the Cazenovia Fire Department. He has never served on a municipal board.
"I look forward to this; I look forward to this experience and getting to know some of the townspeople and some inner workings of my town better. This isn't something I've done before so it's a new challenge for me," Sears said.
Sears said he decided to apply for consideration to the vacant seat simply out of a desire to contribute to his community.
As a town board member, his main goal will be to see that the agriculture and wind businesses in Fenner continue to run smoothly.

"A lot of other municipalities have more of a clash between urban development and agricultural needs. That's not a huge problem here yet, but in the future nothing is as certain as change. To be proactive about change, educate people about ag, ag needs and environmental needs I see as a definitely needed thing in the future," he said.
Jones said four people came forward with an interest in being appointed to the vacant board seat. The town board interviewed all the applicants and found them all "very qualified," but otherwise he would not comment on who the other candidates were or why the board chose Sears.
(Continued on Next Page)
Prev Next
Vote on this Story by clicking on the Icon