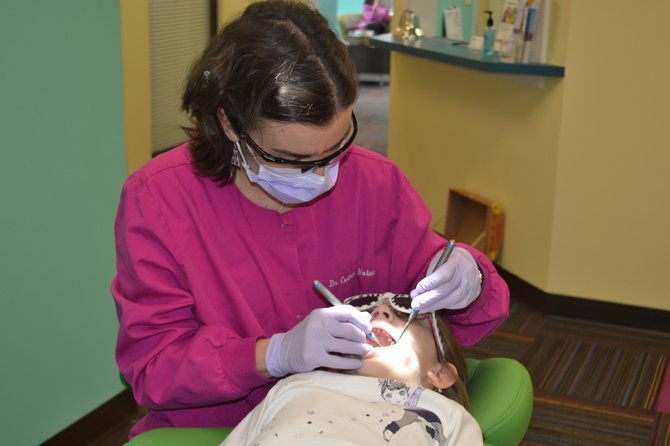 DeWitt — One year ago, Drs. Tansy Schoonmaker and Cosmina Nolan did not even know each other – but a lot can change over the course of one year. In January, they officially opened their practice together at 4605 East Genesee St. in DeWitt, called Little Jaws Big Smiles, where they specialize in pediatric dental care.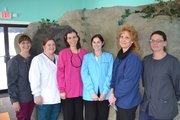 Schoonmaker said that they're trying to stress the importance of preventative dental care to each of their patients. Her goal is to see each child by the age of 1 year in order to have them checked out and to educate parents about how to prevent cavities and keep their kids' teeth healthy.
"Pediatricians have sick-visits and well-visits," Schoonmaker said. "And if you go in for a sick-visit before you've had the well-visit, it can be scary for kids. They don't know what's going on and they've never had the experience or knowledge in the what the dentist is all about, so we want to get them in by age 1 so that if they fall and hurt their tooth, they're more comfortable when mom has to take them in for a sick-visit… It's all about prevention, I don't want to see a 5-year-old with 15 cavities, I want to see them at 1 and make sure they don't have a cavity throughout their entire childhood."
Because they both want to be able to spend time with their young children, each doctor works part-time at the office – Schoonmaker works Monday through Wednesday and Nolan works Tuesday through Thursday. Before everything else, Schoonmaker and Nolan are mothers, and made a point to hire staff members who have children and understand the nurturing aspect of the job.
And in order to make sure that kids are comfortable and excited about the dentist, Schoonmaker and Nolan designed their office to be as kid-friendly as possible. The whole office is ocean-themed, and from the "grotto" play area in the waiting room, to the TVs tuned to Nickelodeon in the patients' rooms, to the cheetah or zebra print glasses that kids wear during their check-ups to soften the harsh light that shines in their eyes, LJBS is not your ordinary dentist office.
(Continued on Next Page)
Prev Next
Vote on this Story by clicking on the Icon